TSG 1899 Hoffenheim – Bayer 04 Leverkusen: Belfodil And Friends Expose Leverkusen's Poor Counterpressing (4-1)
TSG Hoffenheim were able to beat Leverkusen 4-1, exactly the same score as in the first meeting. Julian Nagelsmann chose a strategy that mostly relied on counterattacks, and switched to a line of four in defense. Bayer Leverkusen showed the same issues as they have in recent weeks, and were caught in transition multiple times throughout the match.
Tactical analysis and match report by Max Bergmann.
Leverkusen suffered a setback with their defeat against Bremen and were therefore obliged to win further points to help secure their European qualification spot. Hoffenheim on the other hand, suffered a loss of points due to numerous draws throughout the season. To keep their chance on qualifying for a European competition alive, winning against direct opponent Leverkusen seemed to be their last chance.
After playing with a back three in recent games, Hoffenheim utilized a 4-3-3 formation here. Manager Julian Nagelsmann missed his left wing-back Nico Schulz due to a suspension. The German international was replaced by left back Joshua Brenet while Kevin Vogt and Benjamin Hübner played as central defenders. In midfield, Kerem Demirbay and Leonardo Bittencourt played alongside single pivot Florian Grillitsch. Up front, Nagelsmann chose to line up Joelinton and Ishak Belfodil, who flanked striker Andrej Kramarić.
Leverkusen coach Peter Bosz set his team up in his typical 4-3-3 formation. Left back Tin Jedvaj replaced the suspended Wendell, next to Sven Bender who played as a center-back next to Jonathan Tah. Number six Julian Baumgartlinger was tasked to support the back four during the build-up. The nominal attacking quintet was again fielded to fill in the five most attacking positions in Bosz' 4-3-3 shape. Julian Brandt and Kai Havertz in midfield, and Leon Bailey, Karim Bellarabi and Kevin Volland in attack.
Leverkusen's domination with a lack of goals
From the first minute, Hoffenheim pressed Leverkusen high up the pitch. Nagelsmann's side guided Leverkusen's buildup towards their right wing, where Joelinton pressed left back Jedvaj, while Kramarić and Belfodil marked Leverkusen's center-backs.
This was supposed to prevent Bosz team from switching play. Whenever Leverkusen were able to switch sides, left back Brenet moved a long way up the pitch to press Leverkusen's right back Lars Bender.
Nevertheless, Leverkusen found a way to outplay the press in playing through central areas. With rotational movements, Leverkusen's midfield trio could free themselves from their direct opponents and receive the ball. Moreover, right winger Karim Bellarabi tucked in, thereby increasing their midfield superiority. Bailey on the other flank stayed wide and was tasked to use his dribbling qualities once Leverkusen progressed up the pitch.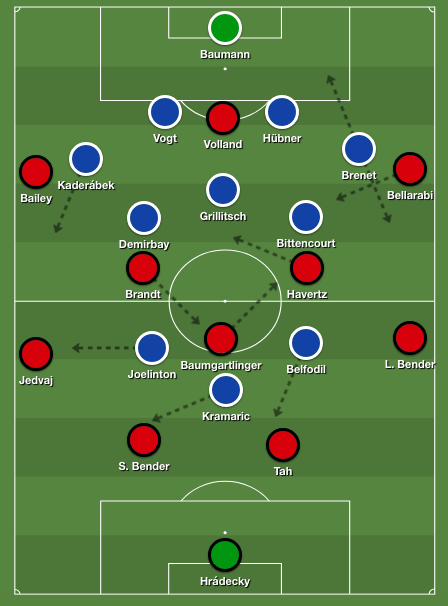 Leverkusen's rotational movements in midfield were the key to their domination against Hoffenheim's high press.
Leverkusen saw more of the ball throughout the entire match. After Hoffenheim scored the opening goal – scored by Belfodil, from a counterattack, after ten minutes – Leverkusen were largely able to dominate within the opposition half.
Bosz' team were able to pin Hoffenheim's attackers down in their own half. Moreover, they managed to switch sides and retain possession, as the central defenders had enough space to drop into whenever Hoffenheim's strikers attempted to mark them. Since the attacking trio of Hoffenheim kept connection to the midfield during defending, Leverkusen's central defenders could cover the attacks without direct opponents.
Hoffenheim's dangerous counterattacks
The match was tied again after fifteen minutes, when Volland headed in a beautiful cross from Julian Brandt. At this stage of the match, Hoffenheim mainly defended deep and mainly used counterattacks to threaten Leverkusen's goal.
Whenever Leverkusen lost possession, they immediately counterpressed the ball-carrier, which is a staple for Bosz teams. As their midfielders were positioned higher than the opposition advanced midfielders, defenders often needed to step out of the last line in order to counterpress.
Especially on the right side, fullback Lars Bender liked to move forward during transition moments. Since Hoffenheim's offensive trio stayed high up the pitch, they then posed possible options for Hoffenheim's midfielders to outplay Leverkusen's counterpressing.
A disadvantage of Leverkusen's rotational movements in midfield was that they did not constantly have a holding midfielder in front of the back four. As Bender left the back four often, at times, Leverkusen's defenders were left in a three-versus-three situation in the back. In such a situation, Kramarić and Belfodil exploited the missing cover of Leverkusen and scored the first goal of the day.
In general, Leverkusen's ball-focused counterpressing often leaves their defenders in one-versus-one situations in the back. Pacy and skillful attackers can hugely penalize this. As Leverkusen often cannot maintain their counterpressing intensity at the highest level throughout the full time of a match, this offers promising opportunities for the opposition. And fun games!
Although the counterpressing often forced Hoffenheim into playing long balls, Leverkusen's pressing players were not capable of winning the ball, nor of avoiding precise balls towards Hoffenheim's attackers.
Leverkusen went behind again in the 52nd minute, because Bender unfortunately scored an own-goal when trying to block a harmless shot. Another unsuccessful counterpressing situation introduced Hoffenheim's third goal of the day. Once again, Leverkusen could not avoid Hoffenheim to play forward passes when counterpressing. In the following sequence, Leverkusen were exposed in a two-versus-two situation in the back, and Belfodil could score.
All in all, it is fair to say that Leverkusen's often unsuccessful counterpressing was at the base for Hoffenheim's success.
Some other tactical musings
Leverkusen were not the only side struggling with the transitioning from attack to defense. Hoffenheim also offered the away side space for quick counterattacks. As single pivot Grillitsch interpreted his role differently than the role of a usual holding midfielder, the Austrian found himself in wide areas or even within the opposition penalty area at times. In combination with their high fullbacks, Hoffenheim therefore occasionally lacked defensive cover during the attacking phase.
But Grillitsch was not the only Hoffenheim player who was caught out of position more than once. As Hoffenheim attempted to press Leverkusen at times, this guided their midfielders towards the wings whenever either of their fullbacks moved up the line to press.
Since Hoffenheim could not hold onto the ball for a long time in the most cases, Leverkusen faced a disorganized Hoffenheim during transition phases. With their enormous pace, especially wingers Bailey and Bellarabi could make use of the missing fullbacks. Nevertheless, Leverkusen lacked precision and correct decision-making up front, which was another reason they lost this match.
Despite their low possession rate of only 35%, Hoffenheim also created chances from positional attacks. The home side did not even attempt to progress up the pitch with short passes, instead preferring longer balls instead. Their robust wingers tucked inside to receive these balls in areas near the opposition goal. That way, Nagelsmann's team overplayed Leverkusen's midfield.
Takeaways
Hoffenheim's 4-3-3 formation seemed to be the right choice to quickly capitalize on Leverkusen's defensive mistakes. Especially Belfodil was fantastic in his role as a left winger and exposed Leverkusen's defense several times.
However, the home side did not seem to be solid in defense either and hugely benefited from Leverkusen's incompetence to score.
The Bosz counterpressing still lacks defensive cover and therefore allows the opposition to create big chances. If the main strategy is to outscore the opponent, Leverkusen will need better decision-making and precision within the final third. The one-third of the pitch that is closest to the opposition's goal.
Use the arrows to scroll through all available match plots.