VfL Wolfsburg – Bayer 04 Leverkusen: A Game Played In Such A High Tempo That It Was Tiring To Look At (0-3)
Transition after transition after transition. Both Bayer Leverkusen and Wolfsburg wanted to press the opponent and play a direct brand of football in possession. It resulted in a game with an extremely high tempo, even for Bundesliga standards. After the dust had settled, Bayer Leverkusen took home the three points, as they had been slightly better, and slightly more lucky.
Tactical analysis and match report by Erik Elias.
One of the most entertaining aspects of the Bundesliga is how narrow the margins between clubs in the top half of the table are. Last season, the difference between finishing third or seventh in the Bundesliga was four points.
At the moment, closely behind Bayern Munich, Dortmund and the surprising Borussia Mönchengladbach, a slew of clubs is jostling for the places that grant European football at the end of the season. Every week, two or three matches between clubs from his hyper-competitive pack of clubs take place and it is always very hard to predict the outcome.
Every manager needs wins, but no manager needs them more than a manager who has just arrived at a club. Leverkusen lost their first match under the reign of Peter Bosz against Borussia Mönchengladbach last week, and Bayern Munich are coming to town next week. This match almost served as a 'must-win' for Leverkusen.
Bosz decided to field the same starting eleven as last week, in the same formation, his nominal 4-3-3 shape. Aranguíz as the lone holding midfielder, Julian Brandt and Kai Havertz as central attacking midfielders? Sounds fun.
Their opponents Wolfsburg were sixth going into this game, which is quite commendable, since they had been fighting against relegation for the past two seasons, arguably with better players at their disposal. Manager Bruno Labbadia lined his team up in a 4-3-1-2 shape, with Wout Weghorst and Renato Steffen up top and Admir Mehmedi as a number ten. The midfield line of three was formed by three very industrious midfielders in – from left to right – Elvis Rexhbeçaj, Maximilian Arnold and Yannick Gerhardt.
Match opens chaotic
When the tempo in a match goes up, players have less time on the ball to make and execute decisions. When players have less time to make and execute decisions, more errors occur. This was a theme throughout the entire match, as possession rapidly switched sides and the game was characterized by moments of transition from the first whistle.
Leverkusen's high line out of possession and Wolfsburg's specific way of pressing were the main reasons both teams lost the ball in the first ten-to-fifteen minutes of this match. Starting from their 4-3-1-2 shape, Wolfsburg pressed Leverkusen's two central defenders with their two strikers and man-marked Aranguíz with Mehmedi. That meant the pass to the fullbacks was deliberately left open. Whenever Leverkusen's fullbacks Wendell or Lars Bender got on the ball, this was the cue for Wolfsburg to shift their entire team over to that side, in an attempt to prevent a forward pass.
Wolfsburg's way of pressing, which had all their players except the fullbacks in the central axis of the pitch, before they shifted over to one side.
The fine margins that exist in Europe's top leagues were underlined in the opening phase, when two very close offside calls were – rightly so – given against Wolfsburg. One of those would have meant an open path for Steffen to run at Leverkusen's goalkeeper Lukáš Hrádecký. Leverkusen's defense was not always operating on a straight line, meaning Steffen and Weghorst often could exploit the space in behind.
Leverkusen's first chance of the match came in the fifth minute, after Havertz played a short pass to Brandt. His diagonal pass created a one-versus-one opportunity for Karim Bellarabi, who hit the bar with his attempt.
Two different ways of pressing
In contrast with Wolfsburg, Leverkusen had two different ways of pressing. The first pattern had been on display against Borussia Mönchengladbach as well, as Leverkusen formed a zonal 4-3-3 shape against the ball. Whenever Wolfsburg's number six Arnold was played in, Aranguíz would apply pressure to make sure he could not turn and pass the ball forward.
The second way of pressing actually looked a lot like Wolfsburg's way. Kevin Volland would drop back as a number ten and man-mark Arnold. The wingers would tuck in, looking after Wolfsburg's central defenders. This meant the fullbacks were open once again. Leverkusen however preferred to play four-versus-four on midfield, opting to let a fullback press Wolfsburg's fullback. Because Wolfsburg was playing with two strikers, Leverkusen still had a numerical advantage of three-versus-two at the back.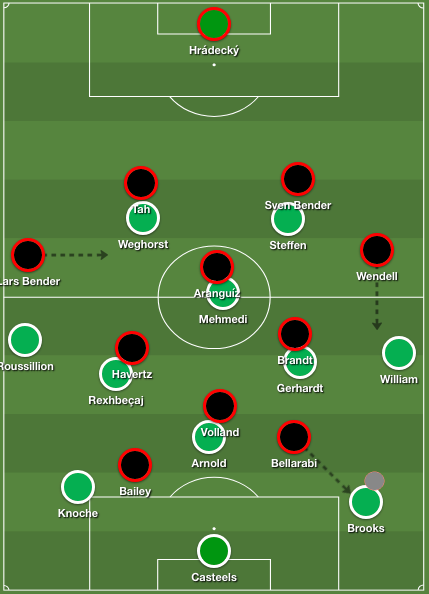 One of the ways Leverkusen tried to press. Notice the tight man-marking on the midfield.
Two reasonably big chances for Wolfsburg arose from these situations. In the 36th minute, Aranguíz failed to put pressure on Arnold, which started a Wolfsburg attack that finished with a big chance for Steffen from the edge of the penalty area. In the 38th minute, Wendell was too late in pressing William, who then had the chance to punt the ball forward. The second ball fell for Weghorst, who freed up the ball, but could not convert the shot.
Overall in the first half, Leverkusen had more chances, Bellarabi being their standout creator. Four minutes before half-time, for the first time, Leverkusen proved to be the slightly more lucky team. William gave away a penalty – for the second week in a row – meaning a penalty was awarded to Leverkusen. Calmly converted by Havertz. 0-1 Leverkusen.
Leverkusen drop deeper and eventually adapt 4-2-3-1 shape
In the second half, the tempo dropped a little bit, but not that much. Leverkusen dropped considerably deeper at times. They formed a fairly standard 4-5-1 or 4-1-4-1 formation in these situations, dropping back into a medium block or even a low block at times. A low block refers to a team that retreats deep in their own half out of possession, generally only disrupting their opponents around their own box. A medium block refers to a team that retreats in their own half out of possession, generally only disrupting their opponents some way into their own half. This defensive approach was still mixed with their pressing, meaning the game was still defined by a lot of moments of transition.  
The fact Leverkusen did better in transitioning from defense to attack – moments that have become so decisive in modern football – won them the match. In the 63rd minute, Kevin Volland got on the end of a beautiful counterattack. He freed up the ball with some exquisite trickery, even though his finish was even better. A canonical shot went in at the near post, as goalkeeper Koen Casteels probably only heard the ball.
Minutes later, Wolfsburg scored due to disorganization in Leverkusen's last line, as Steffen was put through on goal. After reviewing by the video assistant referee, an offside situation in the attack was called, and the goal was put off. Another example of how VAR makes the game of football more honest and reduces unfair decisions, as the offside call was very narrow. Another perspective being that Leverkusen once again got away with a defensive lapse because of a very close offside call.
After this, Leverkusen stepped away from pressing for large parts, and retreated back into their deep defensive organization. With the introduction of Julian Baumgartlinger with fifteen minutes to go, Leverkusen morphed into a 4-2-3-1 shape, with Bailey coming off, Havertz playing as a ten and Brandt as a left winger. Wolfsburg at this stage had taken on a very offensive 3-1-4-2 shape, with Roussillon as a part-fullback part-central defender and the substitute Josip Brekalo shuttling on the right wing.
Wolfsburg's very attacking formation in which they ended the match. Labbadia seemingly tried to throw all his attacking talent on.
There is a lot to be said about Wolfsburg. They are a side of extremely hard workers, they have some amazing athletes and they seem to be well-drilled tactically. But they don't have a lot of creative players to break down a defensive wall like Leverkusen put up at times in the second half. Of course, Wolfsburg's formation meant there was space to counterattack, which Brandt successfully did in the 88th minute by scoring Leverkusen's third goal of the match.
The game ended with Wolfsburg kicking and hacking away at Leverkusen's players at every opportunity, which felt very much in line with the overall competitiveness on display in this match. All in all, this was a very intense game that felt more like a boxing match at times.
Takeaways
After the match, in an interview broadcasted on Dutch television, Bosz remarked that his team had made 293 high intensity runs in total. Other managers might have been proud of those values, but in Bosz' opinion, the amount of runs was too much. He said that if his players would have played better and made less mistakes on the ball, there would have been less running necessary to win the ball back.
Bosz is always looking to control matches in the way managers like Guardiola or Sarri try to. By playing short passes, pinning the opponent back on their own half and quickly trying to win the ball back if it is lost. In the first 180 minutes in charge of Leverkusen, this style has only come off for twenty minutes, which were the final twenty minutes of this game. Something to keep an eye on.
Wolfsburg are doing a very good job in the Bundesliga this season. Their brand of football is based around hard work, a high tempo and putting bodies in the box for crosses. Labbadia is showing some craftsmanship in letting this squad compete with the teams in the upper half of the table. If Wolfsburg do manage to finish among the top-six of this season's Bundesliga, it is one of the finest accomplishments in his long managerial career.
Use the arrows to scroll through all available match plots.
Feel free to use the comments section below to interact with the writer, and with other members of Between the Posts.