Virgil van Dijk Is The Pinnacle of Liverpool's Corner Kick Machine
Thirty-three minutes into the game against Leicester City, the score is tied at 0-0, and a fully packed Anfield sees Trent Alexander-Arnold take three firm, yet closely measured steps backward. Eyes on the ball, eyes on the box, left arm up and before he even hits the ball, it has already happened. A well-rehearsed drill is in full motion, liberating key figure Virgil van Dijk and allowing him a hardly contested header. Goalkeeper Schmeichel can only block it and from several Liverpool players ready to pounce on the ball, it's Diogo Jota with the easy tap-in for the opening goal. Liverpool have done it, again.
Written by Ahmed Walid.
In the last couple of seasons, Liverpool have topped the goals from set pieces chart in the Premier League in all seasons except 2020/21, when injuries got the better of them despite finishing third. The reason behind their superiority goes all the way back to pre-season in 2018, when Jurgen Klopp, Peter Krawietz and Pep Ljinders sat down to revamp the club's set piece routines. Since then, Liverpool haven't looked back.
An important part of Liverpool's set piece prowess has come at corner kicks. The delivery of Trent Alexander-Arnold and Andy Robertson has helped Liverpool create more dangerous chances for their players. On the receiving end of these deliveries are Liverpool's center backs, mainly Virgil van Dijk. The Dutch defender has scored 7 goals from corner kicks in the Premier League since he joined Liverpool, the latest in their win against Crystal Palace.
"We always come up with a clear plan in how we can make our set-pieces count against a particular opponent and then we implement those ways in training. We really spend time on it. It comes with conviction. We're really all together and also as individuals become better and better so our set-pieces have improved" Ljinders told The Athletic in 2020.
"For example, look at Trent's delivery. That's one thing and the timing and heading of Virgil is another. We need to use these strengths. They give colour to the ideas we have."
"We try to help as coaches by giving them good moves and ideas. It's a good weapon, especially against a deep defending team as when you're always trying to create, you're bound to have more corners. There's a strong emphasis on making set-pieces decisive."
That goal against Palace followed a similar pattern that Liverpool regularly use at corner kicks to create an advantage for Van Dijk. The aim is always to create space for Van Dijk to attack, whether at the near post or the far post. 
Here, you can see Jordan Henderson and Diogo Jota (highlighted in red) near the six-yard box, while Fabinho (highlighted in blue) is ahead of Van Dijk who is leaving 2–3 yards between him and the Palace players.
As Robertson is getting ready to play the corner, Henderson, Jota and Fabinho all move into position to play out their respective roles to create an advantage for Van Dijk. Highlighted in blue, Fabinho stifles Joachim Andersen who's supposed to pick up Van Dijk. In-front of him Henderson starts to move ahead of Jean-Philippe Mateta while Jota fakes a run towards the far post to drag Joel Ward inside with him.
The purpose of all these movements is to vacate the near post for Van Dijk. With Fabinho and Henderson blocking Andersen and Mateta, and Jota occupying Ward, Van Dijk has a clear path towards the near post. What also helps Van Dijk are the 2–3 yards he takes away from the opposition defenders, this small distance allows him to make an uninterrupted run towards the space created by his teammates….
…….and eventually head the ball into the back of the net.
In the first game of the 2020/21 season, Van Dijk scored an almost identical goal. Again, it was Robertson but there were more roles to play from the rest of the Liverpool players. The front three, Mohamed Salah, Sadio Mané and Roberto Firmino (highlighted in red) were all responsible for making decoy runs to free space towards the near post for Van Dijk to attack. Meanwhile, Henderson and Gini Wijnaldum (highlighted in blue) were tasked with allowing Van Dijk to make the run itself. Wijnaldum was positioning himself in-front of Pascal Struijk to clear the path for Van Dijk, similar to Fabinho in the goal against Palace. And Henderson will make a fake run towards the back post to move Kalvin Phillips away from the mixer. It's also important to note how Van Dijk again is leaving 2–3 yards between himself and the opposition players.
Robertson's run up is the trigger for the movement. Henderson drags Phillips towards the far post, Wijnaldum sticks tighter to Struijk while screening for Van Dijk who has a semi-clear path towards the near post. The man supposed to mark Van Dijk here is Robin Koch (highlighted in white) who is a couple of yards away from Van Dijk because of Wijnaldum's screening, Henderson's distractive movement and the initial distance Van Dijk takes away from the opposition.
What takes Koch totally out of the duel is his slight collision with Mané who is making a run towards the far post. The purpose of Mané's run is to drag Stuart Dallas away from the near post, in conjunction with the movement of Firmino and Salah. The Egyptian's movement towards the edge of the six-yard box helps in creating the gap below by moving Mateusz Klich a couple of yards nearer to him and away from the center. At the same time, Firmino was moving towards the goal to drag Luke Ayling closer to the goal line and away from the center.
All of the above sets the scene for Van Dijk to score. The space is emptied for him to attack it, and the ball is perfectly crossed into that space.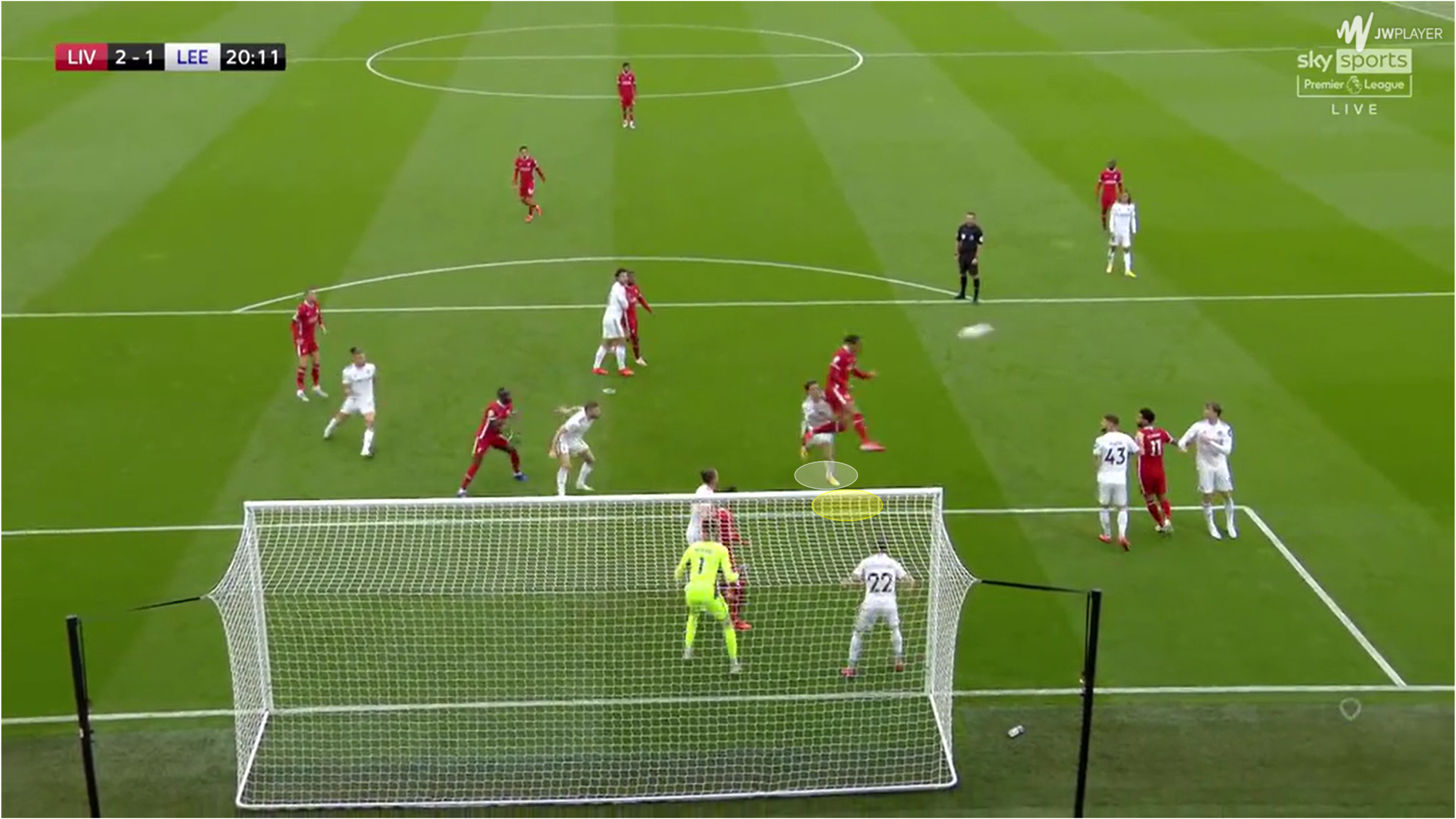 Asked whether he targets players or zones when taking corners kicks, Alexander-Arnold answered "I would say more into spaces".
"You know who the targets are, and the two central defenders are the biggest targets in our team. But you also have Diogo and Sadio in there as well who are frightening in the air.
"It is about hitting the right areas and then, more times than not, you will get first contact — like you see against Southampton for Virgil's goal."
In that goal, it was again all about creating space for Van Dijk to attack. Before Alexander-Arnold put in his well-placed delivery, the Liverpool players inside the box were Mané, Jota, Van Dijk and Ibrahima Konate. Van Dijk as always was leaving 2–3 yards between himself and the opponent, this time Oriol Romeu.
As Arnold put in the cross, Jota, Mané and Konaté all made runs towards the near post dragging multiple Southampton players with them and leaving Van Dijk isolated against Romeu. 
The Dutch defender then tried to fake a move towards the far post to destabilize Romeu before moving inside into the space created by the runs of Konate, Mané and Jota.
Romeu's strength meant that Van Dijk barely caught the ball with a shot instead of a header, but nonetheless he attacked the correct space and scored.
"It is rare to get the ball to drop in the box from a corner and someone is able to volley it in. Virgil had been blocked off there, so he wasn't able to make his proper run, but he was able to adjust, and it was a good finish." Arnold added.
Another example can be seen in Van Dijk's double against Brighton in 2019. In the run up he beats Lewis Dunk in a one-versus-one situation, but the work of his teammates vacates the space for him to attack the near post freely. Like in the previous examples, Salah moves towards the edge of the box, dragging Martin Montoya with him. Nearer to Van Dijk, Dejan Lovren makes a run towards the far post, forcing Adam Webster to go with him rather than attacking the ball.
While Lovren was dragging Webster with him and Van Dijk was getting ahead of Dunk, Mané was pinning Pascal Gross by the six-yard box and Wijnaldum was spinning towards the far post to drag Aaron Mooy with him. All that meant that the Brighton players highlighted in blue couldn't contest the aerial duel with Van Dijk. As a result, Brighton's last hope was Dale Stephens who wasn't marking anyone and was probably there to defend that space against Van Dijk….
….but the delivery from Arnold and the fact that Van Dijk was attacking the space while Stephens was in a rest position gave Liverpool a huge advantage, and of course Van Dijk headed it in.
Back in 2018, Liverpool's coaching staff wanted their team to improve their set pieces, and after topping the goals from set pieces table for two seasons, they are once again at the top with 13 goals. Ten of those came from corner kicks, the most in the league this season. Ljinders was right, Liverpool "really have that mentality to be a set-play team". Next time you see that left arm go up, you know what's coming.
We decided to make this article free to read.
If you want to support our work, consider taking a subscription.