Why is LaLiga so competitive this season?
Crazy season for LaLiga fans, isn't it? We've become accustomed to near-certain wins for the traditional top-three, a clearly defined bunch of teams competing for the honorable places just below them, and a distinct bunch of crappy teams fighting it out in the bottom end of the table. This season, things are different in LaLiga.
Recent matches have seen the traditional top-three — Real Madrid, Barcelona, Atlético Madrid — take their familiar places, and newly promoted Huesca are starting to see a gap appear that separates them from the rest of the pack. For a while, though, it seemed like the big three would lose their dominance over the league, and even teams like Alavés and Espanyol have cracked the top four at several points of the season.
Even crazier than the top is the mid-table area. By the end of match day 22, there is just a nine-point difference between the fifth-placed team (Getafe) and the eighteenth place (Rayo Vallecano). Celta de Vigo, in sixteenth, have a better goal difference than seventh placed Alavés. One or two wins in a row could take a team from the relegation zone to being on the verge of the European spots.
What lies behind all this madness? That's an ambitious question, and in all honesty, one that does not have a simple answer. Some of the teams that we expected in the top half of the table have disappointed, others have merely been unlucky in terms of finishing on either end of the pitch. Some lower and mid-table teams have genuinely improved, some are just going through a hot streak. Let's go over the teams that make up this season's spectacularly competitive LaLiga.
Who is good and who is lucky?
Let's first look at LaLiga's 2018-19 good-lucky matrix. The horizontal axis represents the non-penalty net expected goals against, which quantifies how well teams have done in creating chances and not conceding chances. The vertical axis represents the difference between PDO and expected PDO (click here for more info on that metric), which quantifies to what degree teams are outperforming expected goals (lucky) or underperforming (unlucky).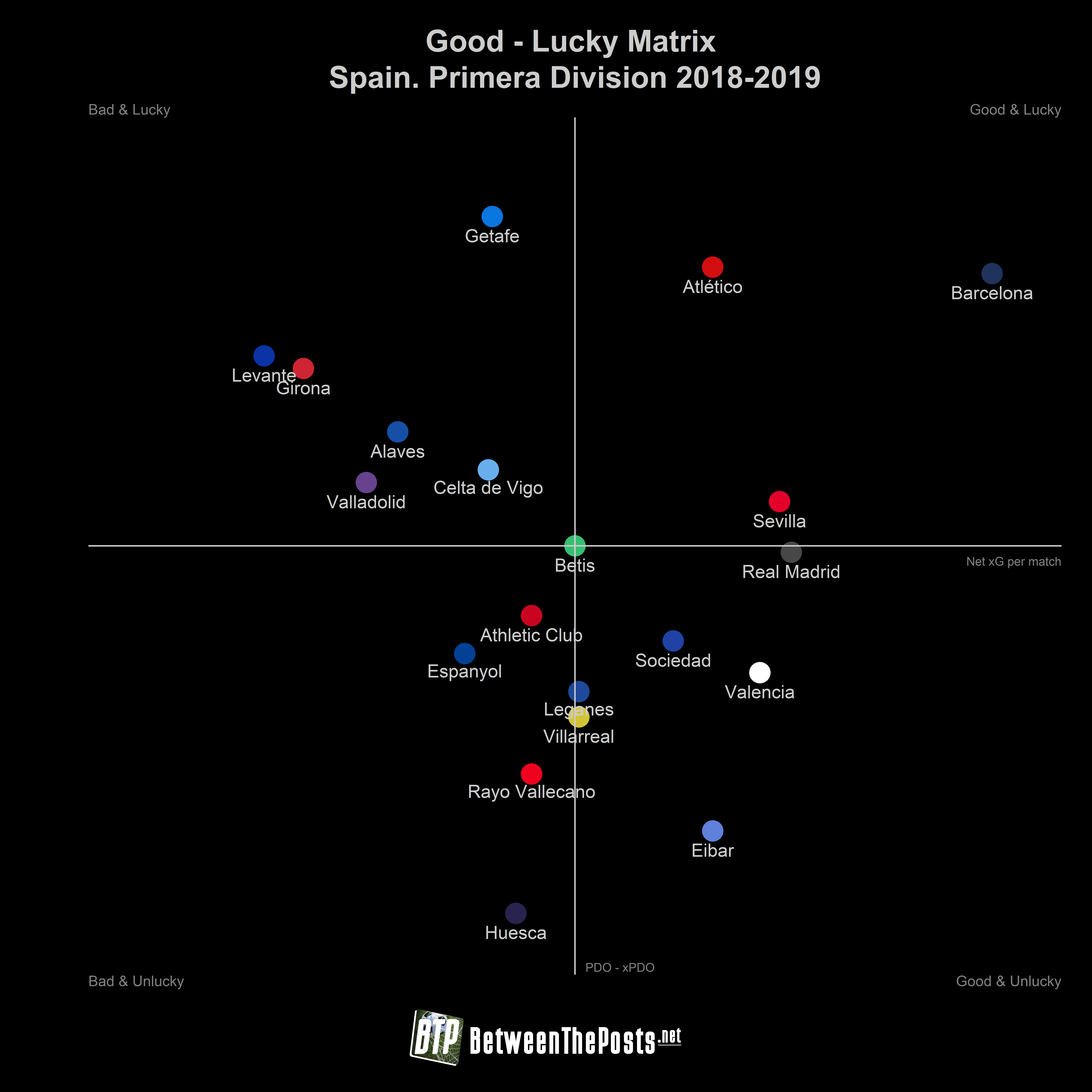 The "good but unlucky teams": Valencia, Villarreal, Betis, Eibar
These teams – in the lower right quadrant – all share the same trait, although recent events have seen Betis sneak away to exactly league average quality and luck. These teams have underlying numbers worthy of a place in the top half, but they have suffered from inefficient finishing throughout the season. Many of the forwards in these teams have undergone bad streaks:
Gerard Moreno and Karl Toko Ekambi in Villarreal Moreno scored 4 goals from 8.6 xG, Ekambi scored 3 goals from 5.5 xG.
Kevin Gameiro, Rodrigo Moreno, and Santi Mina in Valencia Gameiro scored 3 goals from 3.9 xG, Rodrigo scored 4 goals from 8.5 xG, Santi Mina scored 2 goals from 4.9 xG.
Takashi Inui, Loren Morón, Tony Sanabria at Betis Inui scored 0 goals from 0.6 xG, Morón scored 4 goals from 5.8 xG, Sanabria scored 2 goals from 3.1 xG.
Kike Garcia, and Sergi Enrich at Eibar Garcia scored 3 goals from 4.9 xG, Enrich scored 5 goals from 6.5 xG.
This means that these teams have often not achieved results in line with their solid collective performances. It is quite interesting to explore how each team dealt with the subpar results.
Given Eibar's low budget, expectations have always been rather low – read: avoid relegation – so lingering in the bottom half of the table has not endangered the job of manager José Luis Mendilíbar. However, expectations are much higher for Villarreal, Valencia and Betis, teams with squads and budgets that are expected to finish in the top half and fight for European spots.
Valencia and Betis stuck by their managers despite spending most of the season in the bottom half of the table. With time, both teams – as expected – have improved their finishing and league standing. Villarreal, on the other hand, sacked manager Javi Calleja and things took a turn for the worse. Under the management of Luis García, Villarreal's underlying numbers dived, and the team dropped into the relegation spots. Recently, Villarreal decided to re-appoint Calleja.
This is a good reminder that for teams in the "good but unlucky" quadrant, it is often better to just stick with the manager and try to weather the "storm of bad luck". Villarreal probably would have been better off sticking with Calleja in the first place.
The "bad but lucky teams": Getafe, Alavés, Girona, Levante, Valladolid
Now, we come to the teams in the upper left quadrant, whose underlying numbers are in the bottom half of teams but highly efficient scoring and/or stopping of shots has driven their results. Apart from Valladolid, these teams have spent most of the league in the top half of the table, a surprising achievement considering their budgets and personnel, which are, on paper, in the bottom half of the league. The reasons for outperforming the underlying numbers are varied:
Goalkeepers enjoying hot streaks in shot-stopping: Fernando Pacheco at Alavés, Yassine Bounou at Girona, and David Soria at Getafe. Pacheco conceded just 27 goals from 31.5 xG, Bounou conceded 31 goals from 35.6 xG, Soria conceded 18 goals from 26.5 xG.
Strikers enjoying hot streaks in finishing: Jorge Molina at Getafe and Christian Stuani at Girona. Molina scored 8 goals from 5.1 xG, Stuani scored 12 goals from 6.2 xG.
Alavés and Valladolid have been particularly efficient in set pieces. Most of their expected goal overperformance, both in defense and attack, comes from this source. Alavés scored 11 set piece goals from 7.4 xG, Valladolid scored 7 set piece goals from 6.0 xG.
However, the whole phenomenon of unsustainable overperformance, also known as 'luck', is a tricky domain. Rather than simply subtracting actual goals from goals predicted from an expected goals model does not respect the complicated interactions that come in play during a football season. Although it remains a challenge to quantify or prove mathematically, it is reasonable to assume that some teams might play in certain styles that are less well recognized by the traditional expected goals models. This has been true in the past for teams managed by Sean Dyche or Lucien Favre, and it could also apply to teams like Girona and Valladolid, who have some of the deepest defensive blocks in LaLiga.
In addition, initial good results inspire confidence and stability, while any early season run of disappointing results usually bring debates about confidence and might lead to poor decision-making. It could even be the case that initial overperformance might lead to improvement of underlying numbers, while initial underperformance might lead to deteriorating performances. In that way – again hard to quantify – 'luck' and actual performance levels might have a much more complicated relationship than is sometimes assumed.
Part two, dealing with the teams in the other quadrants, will be published after the weekend.