Between the Posts tactical analysis weekend preview: a look at the games we will cover this weekend
Welcome to the weekend primer of Between the Posts, where we preview the matches that will be covered during this weekend, including a little preview of these matches. This is a special week for us, as it is the first week in which we cover MLS and Brazil! And since we now follow seven domestic leagues, the amount of matches to preview has also gone up, which means more fun reading for you!
Saturday, April 27th
Borussia Dortmund – Schalke '04 (Bundesliga), 15:30 CET
The rest of Europe is pretending the title race in Germany is over and that Bayern Munich have already won it, but the Germans themselves know better. There are four games left and there is still only one point in it. Bayern Munich visit Nürnberg, while Borussia Dortmund play this derby, at home against Schalke.
There is a common belief – or should we call it a myth? – in football that derbies like these cannot be properly analyzed and previewed because of the atmosphere in the stadium and the amount of extra tension a game like this brings to the table. Believe what you want, but you are getting some tactical information going into this game, which indeed will be played in front of 80.000 screaming fans. But it will also still be eleven-versus-eleven at the kick-off.
Under Huub Stevens, Schalke are playing just as bad as they did under Tedesco. The veteran Dutch manager has kept the 3-5-2 shape that featured under his predecessor in place. Since Schalke fall back in a low block often, Dortmund will attempt to exploit the space on the wings and in the halfspaces. If you divide the field in five vertical lanes, the halfspaces are the lanes that are not on the wing and not in the center. Because there is no touchline like on the wing, players have freedom to go everywhere. But this zone often is not as well-defended as the very center. This makes it a very valuable offensive zone to play in and a lot of chances are created by passes or dribbles from the halfspace. As a flat midfield line of three always yields spaces on the wings if an opponent switches sides quick, this might be Dortmund main attacking strategy, as they are not nominally a team that attacks through the center anyway. Dortmund have plenty of pace at the back to combat Schalke's direct counterattacking approach and will not be scared to face two-versus-two at the back, so all in all, the cards are stacked against Schalke pretty bad.
Tactical analysis by Max Bergmann.
Watford – Wolves (Premier League), 16:00 CET
Two teams that fight to the title 'Best of the Rest', behind the Premier League's established top six. In the hectic reality of modern football it's easy to lose the wider view on things, so here's a friendly reminder that Watford are only in their fourth consecutive Premier League season, while Wolves are still 'only a newly promoted side'. Both have established themselves as firm top-half team, with Wolves even showing themselves capable of regularly threatening the top six teams, their dominant 3-1 win over Arsenal being the latest piece of evidence.
While the league table shows just a point difference between them, Wolves clearly have the better underlying numbers. Their net expected goals total is already better than Arsenal's, so they may well be expected to make a serious push towards England's elite next season. Watford look pale in contrast, with just a thirteenth place in terms of net expected goals. This reads unsustainable overperformance and while it's far from a mathematical certainty, a drop in performance going into next season looks to be just around the corner.
Tactical analysis by Peter M.
Internazionale – Juventus (Serie A), 20:30 CET
Since Juventus have stumbled over the finish line, this match is now irrelevant for them. Actually, since they are knocked out of the Coppa Italia and the Champions League, their season is over now. Time to rebuild, assess weaknesses (central midfield stands out) and try to go for another Champions League run, since another Serie A win seems inevitable.
We've covered Internazionale a lot at Between the Posts. They always follow the same path of building up with the midfielders, attempting to play through the flanks and then put in (early) crosses. An extremely predictable, yet effective way of playing that has put them firmly in third place.
Little prediction: Inter will have more possession, without creating chances, as Juventus are defensively stable, and Giorgio Chiellini is back from injury to lead the defense. Tight Juventus win, but all of their goals come from either set pieces or counterattacks.
Tactical analysis by Joel Parker.
Stade Rennais – Paris Saint-Germain (Coupe de France), 21:00 CET
If Juventus have stumbled over the finish line in Italy, so have PSG in France. Before PSG beat Monaco this weekend, they came off a run in which they only managed one point in three league games. Quite normal to have a dip in form during a season, but because of the inane financial inequality in this league, every string of two matches PSG don't win is seen as a disgrace. Add in a very unlucky Champions League exit and the public perception might be stacked against Thomas Tuchel even if his team winst this cup final.
Rennes are a horrible team to play against, however. They play in a very compact 4-4-1-1 / 4-4-2 shape off the ball, have pace and skill on the wings and a player called Hatem Ben Arfa to lead the counterattack. He's got a… Well, let's just call it what it is. He literally sued PSG on the base of a loss of income. Don't bet against him playing a monster game in this final.
PSG should be warned anyway, as they lost away at Lyon and Lille this season. A loaded Stade de France is another ingredient that improves the setup for this very tasty cup final.
Tactical analysis by Carl Carpenter.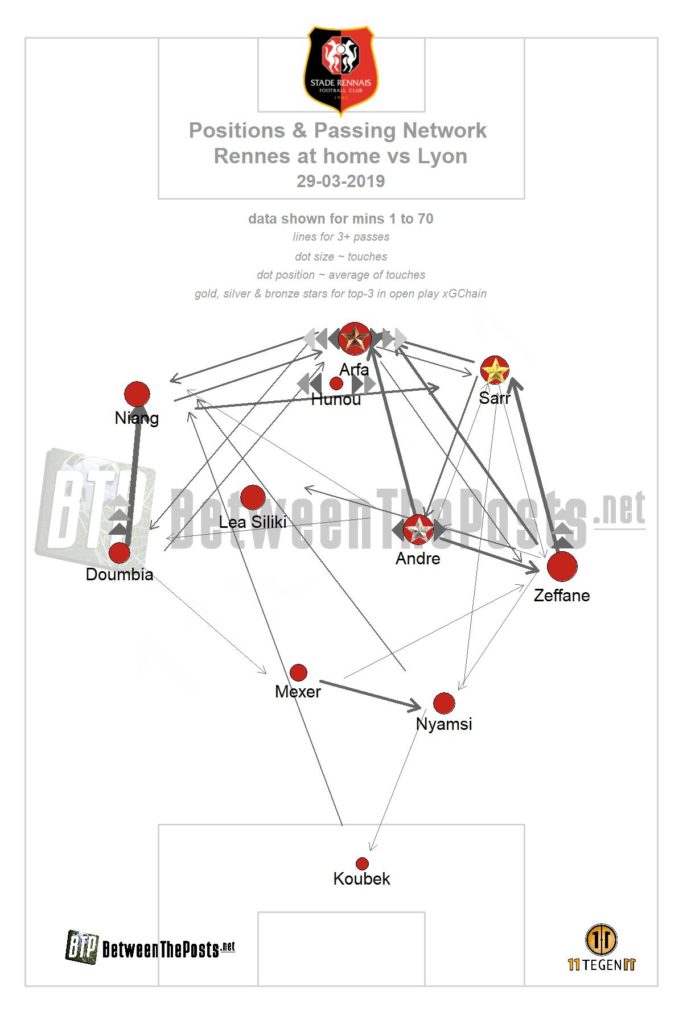 Sunday, April 28th
Clube de Regatas do Flamengo – Cruzeiro (Brasileiro), 02:00 CET
Last season's runners up in the Brasileiro and Brazil's most popular club has one thing on its mind, and one thing only. A national title, to end the drought since 2009. Manager Abel Braga will have to do with two of last season's stars in Vinícius Júnior and Lucas Paquetá, who left for big money for Real Madrid and AC Milan respectively. In return, Flamengo broke its transfer record to attract Uruguayan creative wide forward Giorgian de Arrascaeta from… Cruzeiro. Their offense got bolstered furthered by loan signing Gabriel Barbosa, who failed to live up to his nickname of Gabigol during his time at Internazionale in Milan.
Cruzeiro last won the Brasileiro in 2013 and 2014, but has been more successful in Cup competitions since, winning the Copa do Brasil in 2017 and 2018. The most famous name on their squad list is undoubtedly Fred, who has set his eyes on defying the nature of ageing of football players. Fresh off a cruciate ligament injury that kept him sidelines for most of the 2018 campaign, Fred is currently lighting things up with impressive performances in Cruzeiro's Campeonato Mineiro win as well as in their Copa Libertadores matches.
The winner of the Campeonato Carioca hosting the winner of the Campeonato Mineiro, let the 2019 Brasileiro begin!
Tactical analysis by Erik Elias.
#HOJETEMCRUZEIRO, NAÇÃO AZUL!

HOJE COMEÇAMOS A NOSSA CAMINHADA RUMO AO PENTACAMPEONATO BRASILEIRO!

COM A SUA TORCIDA VAMOS FORTES!

BORA, MEU #CRUZEIRO!#FLAxCRU #NasBatalhasComOCruzeiro pic.twitter.com/LM96fW3reC

— Cruzeiro Esporte Clube (@Cruzeiro) April 27, 2019
Valencia – Eibar (LaLiga), 12:00 CET
Man, does this look bad for Eibar! This match is a clash between two distinct styles. In the red corner, we have direct, vertical passing and an extremely high press (Eibar). In the blue corner, we have a mix of direct counterattacking and slower positional play, while constantly sitting deep in a low block defensively (Valencia).
Valencia are in better form, have better players and might have the stylistic advantage as their defensive shape is among the best in Europe. Eibar are always fun to watch off the ball, because either their press pays off and they pin the opponent in their own half, or it fails and counterattacks loom. The fact Valencia have been in great form and relentless on the counterattack, while Eibar have not won in four games.
Yes, it does look bad for Eibar. But maybe they will be the team breaking this ridiculous run from Valencia. Game on!
Tactical analysis by Tom Quartly.
Grêmio – Santos (Brasileiro), 16:00 CET
Two traditional powerhouses of Brazilian football meet up in the first match day of the Brasileiro. Gremio has usually been there, or thereabouts, even when their last national league title dates back to 1996. Guided by the excellent Luan, Gremio won their third Copa Libertadores two seasons back, beating Argentine side Lanus twice in the double legged final. They managed to hang on to Luan so far, despite strong rumours of an impending transfer to Europe. In Everton, they have a second candidate for player of the season, and the right-footed left forward has impressed in recent Copa Libertadores outings.
Santos, with club legends Pele and Neymar, are three time winners of the Copa Libertadores themselves too, even as we have to go back to 2011 for the last time they won it. National success in recent years has been even more sparse, with the league title drought now spanning fifteen years. The spotlight now swings to the bald head of Argentine manager Jorge Sampaoli. After a short-lived period at Sevilla and an ultimately disappointing spell as Argentina national team manager Sampaoli has landed at Santos. His style of play is the definition of high-risk high-reward and as such Santos will definitely be entertaining to watch.
Tactical analysis by José Perez.
Working in the rain 🌧, so that we may shine ☀. The league starts for us on Sunday, and we can't wait.

Are you ready?!

📷 Lucas Uebel / Grêmio FBPA pic.twitter.com/WndvceuWhF

— Grêmio FBPA English (@gremio_en) April 26, 2019
Manchester United – Chelsea (Premier League), 17:30 CET
If Manchester United do not win this match, their season is virtually over. Both teams need a win anyway to keep up with Arsenal. A draw is not beneficial for any team, which might turn this one into an open and fun clash.
What to expect from a tactical point of view? It depends on Solskjær really. Even though Sarri has mitigated Chelsea's pressing against Liverpool and Manchester City, he probably won't show the same level of respect against Manchester United. Not in their recent form, anyway.
If Solskjær decides to stick to the two strikers and a midfielder pushing up on Jorginho, that might provide hard enough for Chelsea to play through. A 4-3-1-2 shape therefore seems to be a valid option for Manchester United to make life difficult for Chelsea, or a 5-2-1-2 shape if Solskjær wishes to stick to the three center-backs.
United are in dreadful form, while Chelsea's form can be described as reasonable at best, having collected just one point from their last two Premier League matches.
Tactical analysis by Josh Manley.
Seattle Sounders – Los Angeles FC (MLS), 21:30 CET
The first MLS match ever on Between the Posts! It will be played between the number two and three of the Western Conference, meaning we have picked out a good weekend to kick off soccer action.
Seattle Sounders are a pragmatic side, setting up in a 4-4-2 medium block off the ball, not pressing to high, comfortable with the opponent settling in possession. When they have the ball, their approach can be mixed, as their rotating midfield is perfectly capable of playing through the thirds, while the speed up front allows for going in behind as well.
On the other hand, Los Angeles FC offer a more European style of play, operating in a possession-based 4-3-3 shape. Their wingers Carlos Vela and Diego Rossi are a class act for MLS standards, and they have the freedom to tuck in from the wings, while the fullbacks play higher on the pitch. Eduard Atuesta is a big talent, orchestrating the game from the midfield.
This game was played last week as well, Los Angeles trashed Seattle 4-1 that time around, meaning this game will probably be even more hotly contested than the last time out.
Tactical analysis by Siddharth Ramsundar.