Internacional – Santos: Santos' Title Hopes Fade In Quiet Draw At Internacional (0-0)
Action in Brazil's Serie A was in full swing during the international break. This meant that some notable names would miss this clash between Internacional and Santos. Internacional would look to bounce back from a horrid run of results that culminated in the departure of Odair Hellmann as manager. Jorge Sampaoli would bring his charges into the match hoping to keep league leaders Flamengo within distance. What was produced was a goalless contest with good football on display, but little by way of goalmouth action.
Tactical analysis and match report by Julian Chingoma.
Caretaker manager Ricardo Colbachini was in charge of Internacional and he used the familiar 4-3-3 formation. Marcelo Lomba continued in goal with a backline of Heitor, Roberto Rosa, Victor Cuesta and Zeca. Edenílson, Rodrigo Lindoso and Patrick were fielded as the midfield three while Andrés D'Alessandro and Guilherme Parede were on the wings. Nicolás López would lead the line in the absence of Paolo Guerrero, who was away with Peru.
Jorge Sampaoli lined his Santos side up in a 4-3-3 formation to match the hosts and he had Éverson stand in goal. Lucas Verissimo and Jorge were the fullbacks with Gustavo Henrique and Luan Peres in central defense. Victor Ferraz, Evandro and Diego Pituca were the three men midfield. Tailson, Eduardo Sasha and Marinho were then the front three with Sasha at its center. Yeferson Soteldo and Carlos Sánchez were absentees for the visitors.
Early signs of an even contest 
There was a fairly even and open start to proceedings. Possession was constantly changing hands, which left plenty of gaps in transition for both sides. Neither side were able to fully exploit this with both struggling to create chances though. This early dynamic would be an indication of what was to come. 
Possession was evenly split, 53% to 47% in favour of the visitors, yet chances were hard to come by. In terms of expected goals, The amount of goals a team is expected to score based on the quality of the shots they take. Santos narrowly bested their opponents, getting 0.41 expected goals to Internacional's 0.21. A paltry total that illustrates the struggles in the final third The one-third of the pitch that is closest to the opposition's goal. for both sides. This is despite the good work they produced in getting to these attacking areas. Three disallowed goals, all ruled out for offside violations, were probably the most significant attacking actions during the game. Those goals, two for the hosts and one for the visitors, stood out among the poor cross attempts and speculative long-range strikes.
Santos in possession 
Santos would usually push left back Jorge up while they were building up. The other defenders would then shift to form a back three. Pituca and Ferraz dropped back to assist them as a double pivot. 4-2-3-1 is one of the most frequently occurring formations in football. The two most defensive midfielders are called a 'double pivot'. The former would seem to be orientated to the left hand side, where Jorge was advanced, while Ferraz stayed more centrally. They frequently tried to get the ball to Jorge, either through combinations through midfield or directly with lofted balls. Evandro would then operate further forward to form a central connection with the forward line. Marinho and Tailson would stay wide most of the time, with Tailson occasionally moving centrally for Jorge to get some space on the left. 
The activity on the left would often leave Marinho in one-versus-one situations against Zeca which Santos could exploit. A number of times, he managed to get the better of the fullback but nothing concrete came of these attacks. Tailson would also find himself in these situations but under different circumstances. Jorge and his attacking forays would attract the attention of Edenílson and/or D'Alessandro depending on his exact positioning. This would leave Tailson up against Heitor and Santos tried to get him running at the fullback plenty of times. The winger would usually cut in onto his right foot and shoot at goal, drawing some worries for the home fans but nothing overtly dangerous.
Internacional would employ a man-orientated press while Santos were building up. This would appear to be in a 4-3-3 or 4-1-4-1 shape. D'Alessandro, Edenílson, Patrick and Parede would form the line of four and would only leave this line when a press was triggered. This would usually be when Santos moved it out wide either at the feet of a fullback or a center-back. Santos were forced into some long balls as a result of the pressure. 
The normal positioning while Santos had the ball orientated to their left side.
This Internacional press did cause their shape to be slightly stretched and holes started to appear. The away side started to find ways to bypass the midfield line with combinations between the lines involving Evandro particularly effective. He was positioning himself intelligently and whenever one of the midfield four began to press, he would be involved in exploiting the newly vacated space. This meant that there were multiple situations where the visitors charged at the Internacional backline in numbers. But in keeping with the game's theme, they failed to punish their hosts. 
The best Santos opportunity was from an Internacional error. A free kick was swung in from deep and Lomba collided with Cuesta and Henrique as he attempted to punch it away. The ball then bounced up to Verissimo who headed wide. It was a difficult finish in truth, as he did have a defender on the line to beat with his attempt. 
Internacional with the ball
Internacional would build up similarly but would have both fullbacks push up the pitch. Lindoso would then drop in ahead of the the center-backs as his midfield partners stayed higher. D'Alessandro and Parede would tuck in which would open up the space for the fullbacks to get forward. They would also search for passes in the central areas to receive the ball behind the Santos midfield line. 
The hosts looked to attack the wide areas early on with Zeca frequently bombing forward to overlap. Patrick who was on the left of the midfield would also move out wide to create overloads. When one team has more players in a certain area or zone than the other team.
To this end, Marinho would track Zeca back as much as possible. With Tailson doing similarly on the opposite flank, the Santos defensive shape would look like a 4-5-1 formation. 
Internacional's shape while building up against Santos' 4-5-1.
Unlike the hosts, Santos did not use a high press often, opting to keep their 4-5-1 shape fairly deep and compact. The times that they did press, the double pivot of Pituca and Ferraz would be more conservative as Santos formed a sort of 4-2-3-1 shape. Just before the midway interval, Internacional introduced Bruno Silva for Lindoso and this prompted Edenílson to move into a deeper role. He and Bruno Silva played more as a double pivot with Patrick shifting to a more central position. This adjustment ultimately failed to much change to the flow of the game.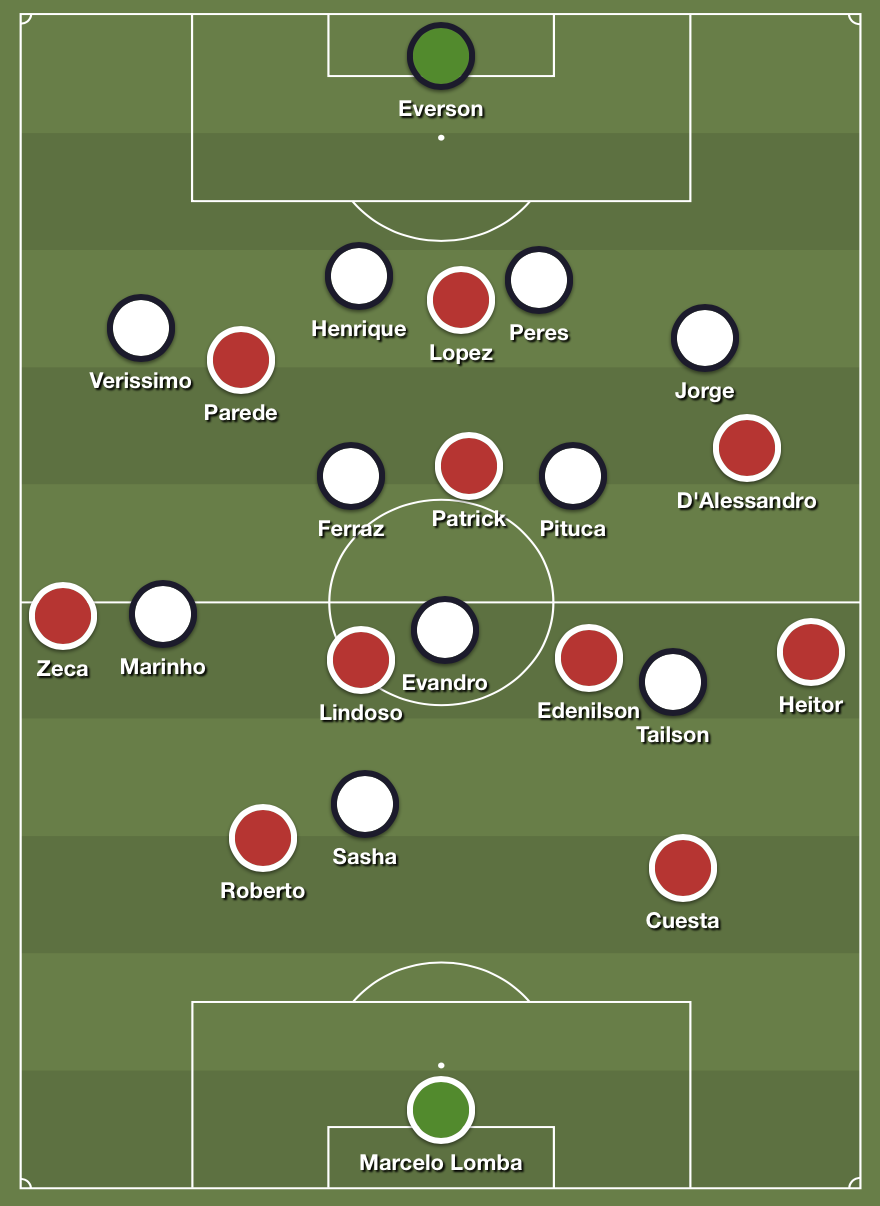 Santos' 4-2-3-1 formation, when they opted to be more aggressive in the press, against Internacional's shape with a double pivot.
One avenue Internacional might have explored more was the ball in behind the Santos defense. This led to one of their disallowed goals but it was not attempted frequently enough. The inside run from Parede was angled well and only slightly mistimed with the ball from Edenílson being inch perfect. The option they usually went with was to work the ball out wide. But Internacional cannot be completely faulted for this, as there was space there to attack, particularly on the left. Internacional just could not manufacture the required chances. This was the game's dynamic for the ninety minutes. 
Takeaways
The two teams will leave this clash disappointed to have not capitalized on the space available. This result will hurt Santos most as the gap to the top was increased to ten points by high-flying Flamengo. Internacional will now go away to Avaí while Santos face Avaí's most recent opponents Ceará. Both of these sides are struggling at the bottom end of the table and present three-point opportunities that Internacional and Santos should claim.
Use the arrows to scroll through all available match plots. Click to enlarge.
Check the match plots page for plots of other matches.