RasenballSport Leipzig – TSG 1899 Hoffenheim: Rangnick's Tactical Changes Rescue Leipzig (1-1)
Julian Nagelsmann's current and future side played against each other in an exciting tactical battle. Hoffenheim impressed with a dominant possession-based style, in their diamond shaped build-up. Leipzig operated in a 3-3-2-2 system, which they struggled to adjust to in the first half, while their second-half change to their usual 4-2-2-2 allowed them to impose themselves on the match and grab a point.
Tactical analysis and match report by Chris Baker. 
Leipzig have been in fine form since the turn of the year. Currently, they sit fourth in the Bundesliga. Switching to a 3-5-2 system, their caretaker manager Ralf Rangnick made three changes to his side. Stefan Ilsanker returned playing in the middle of the back three. Konrad Laimer and Marcel Sabitzer played as central midfielders alongside Diego Demme. Matheus Cunha replaced the ill Timo Werner and partnered Yussuf Poulsen up front.  
Hoffenheim are experimenting a somewhat tougher season dan Leipzig, as their dreams of Champions League football are starting to fade. Nagelsmann's side lined up in a 4-diamond-2 system with Florian Grillitsch and Adams returning to the team. Grillitsch often played as a lone pivot out of possession and dropped in as a third center-back during build-up. Joelinton had an effective role, quite often playing in the ten spaces behind the front two looking to link the midfield and attack.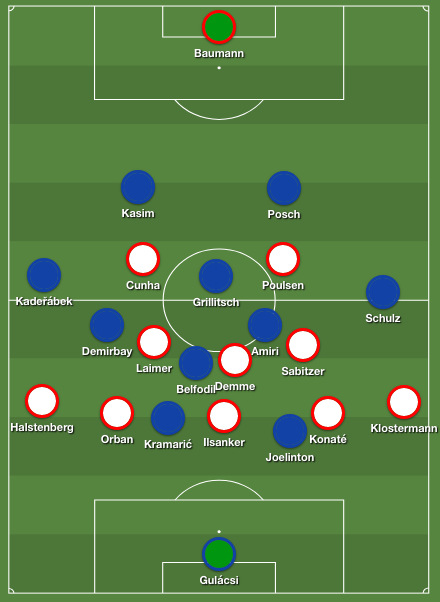 All twenty-two outfield players in their base position, depicted in Hoffenheim's possession
Leipzig's build-up and Hoffenheim's press
Leipzig maintained their back three in the build-up while their wing-backs typically moved up into higher positions. Laimer and Sabitzer moved up in search of spaces further up the pitch while Demme lurked in the six space, offering combinations with the defenders. However, Leipzig often struggled to play through their midfield in the build-up due to the away sides defensive organization.
Against this back three, Hoffenheim's forwards hardly pressured Leipzig's deep ball carriers, instead focusing on holding central positions to prevent passes into the midfielders. Their role was largely to cover the central channels with narrow positioning and direct Leipzig's build-up into wider areas, which the midfield usually covered well. Andrej Kramarić and Ishak Belfodil kept distances between the pair small, allowing the forward on the side of the ball to diagonally press out on the right and left central defender, while covering the diagonal pass back inside. The ball-far striker would then shift to the ball-side, meaning he could quickly cover the space ahead of the defensive midfielder.
This was aided by Hoffenheim's 4-diamond-2 formation off the ball. Joelinton often moved into the ten spaces behind the first line of pressure. His positioning meant Leipzig rarely tried to connect with Demme, at the risk of the pass being intercepted or blocked, while Amiri and Demirbay blocked the lane into Leipzig's central midfielders.
As the half went on, Leipzig looked to move the ball-side wing-back into a fullback position creating a back four. The idea of this was to overload When one team has more players in a certain area or zone than the other team.Hoffenheim's narrow pressing shape and therefore find a free man. However, the positioning of the two strikers who took up places between the center-back and fullback meant they retained a position to press aggressively against potential ball-receivers, preventing Leipzig stabilizing any meaningful build-up scenarios. The lack of dropping movements from the central midfielders to create passing lines meant the defenders were often forced into direct balls into Yussuf Poulsen.
A potential solution to this may have been to have one of the central midfielders drop deeper next to Demme, forming a central build up shape with three defenders and two midfielders. This way, Joelinton would have been overwhelmed with more central presence whilst the dropping movements would have opened more passing lines to progress the ball. The two forwards would also have to be more cautious in their pressing actions at the risk of opening gaps within their structure to play through.
Hoffenheim's peculiar formation in possession
Hoffenheim implemented a 3-1-4-2 in possession. Grillitsch dropped into defense, taking up a central position, which enabled the center-backs to move wide. Both fullbacks moved very high, pinning the opposing wing-backs and offering offensive width, Schulz in particular made diagonal runs to get in behind which was targeted throughout. Joelinton and Amiri moved into the ten positions behind the hosts', attempting to find gaps between Demme and Ilsanker.
The high and wide positions of the fullbacks made it tough for Leipzig's wing-backs to support in pressing while constantly offering the threat of runs in behind. Joelinton and Amiri's positions behind Leipzig's central midfielders made it hard for them to join the press. And if they did, they increased the space behind the midfield for them to receive in.
Leipzig's defensive organization
Mostly, Leipzig retreated into a 5-3-2 medium block EXPLAINER as Hoffenheim's fullbacks pushed right up to pin their counterparts. They elected to give up territory rather than step up higher to confront them allowing Hoffenheim to easily stabilize their build-up. Theoretically, their shape gave Leipzig a numerical superiority when building up, thanks to Hoffenheim's midfield behaviors mentioned previously. However, the very flat midfield meant Nagelsmann's side could easily play passes to either of their right and left center-backs.
If one of Cunha or Poulsen pressed against Grillitsch, they would curve their pressing movement to block the lane to the center-back. Demirbay was often left open meaning the ball-holder could use him as a wall pass to access the free player out wide to progress from there. Furthermore, when pressing the wide center-back, the forwards would press out diagonally blocking the passing line back inside to Demirbay. However, the use of wall passes to their fullback to come back inside allowed Hoffenheim to constantly access key spaces.
And pressing issues…
Although Leipzig's ambitious counterpressing  After losing possession, a team immediately moves towards the ball as a unit to regain possession, or at least slow down the pace of the counterattack. led to a few turnovers in Hoffenheim's half, their in-possession shape manipulated this to decrease its stability. As Hoffenheim often had several players within the balls vicinity, upon a turnover they could play out of tight spaces with quick combinations to negate the hosts pressing efforts. Quite often, Leipzig sacrificed midfield space and pushed Demme up to support the pressing actions of the eights and forwards. Not only did this put Demme in a much higher position, but it also increased the distance between the midfield and defensive line. This provided ampler space for Joelinton to drop into to present himself in attacking transitions as they aimed to play through the hosts active pressure.
The consequence of this was Hoffenheim's front two often pinned the back three meaning they couldn't push out against vertical entries, allowing Joelinton to carry the ball through empty areas. This lack of compactness in their pressing and weak structure in covering defensive spaces allowed the Brazilian to carry the ball forwards, at times creating a three-versus-three on the last line.
"Turn it around in the second half." 🗒️#RBLTSG 0-1 pic.twitter.com/ELbwRVJyWD

— Bundesliga English (@Bundesliga_EN) February 25, 2019
Rangnick successfully alters the match
With his side trailing after Joelinton's strike in the 22nd minute, Rangnick made a number of changes to his side, most of them quite effective in their approach without the ball.
First of all, Tyler Adams was introduced for Ilsanker as Leipzig moved into their nominal 4-2-2-2 system. Adams moved into midfield, forming a double pivot with Demme while Halstenberg and Klosterman moved back into the back four. The second change was tactically, as Leipzig's forwards begun to aggressively press Hoffenheim's build-up players much earlier, including running through on Oliver Baumann to prevent him combining with Grillitsch, who up to that point had been key in engineering Hoffenheim's attacks.
Another effective aspect was defending goal kicks. In the first half, they allowed Hoffenheim time to stabilize their build-up through the center-backs and midfielders. In this 4-2-2-2 shape, they were more willing to step their defensive block  A defensive block is the compact group of defenders that defends a particular zone, either their own half in a medium defensive block, or the zone around their own box in a deep defensive block. forwards, allowing them to prevent shorter passes from Baumann. Additionally, if one of these passes were attempted, they could press against the ball a lot quicker because of better access from their starting position.
Leipzig's near striker could press the wide center-back whilst blocking the passing lane to the closest Hoffenheim six. The ball-far striker could move up diagonally preventing Hoffenheim from circulating across their defensive line. This allowed Leipzig's offensive midfielders to pick up the dropping movements of Amiri or Demirbay to block potential vertical passes. Leipzig's sixes were now in a better position to press up against Hoffenheim's eights while crucially covering the pass into Joelinton. These more coordinated pressing movements allowed them to impose themselves much earlier on Hoffenheim's ball-carriers with sufficient levels of compactness.
Hoffenheim react and change formation
Nagelsmann reacted by altering his teams off-the-ball structure too, playing more of a 3-1-4-2 / 3-5-2 shape. Ermin Bičakčić was introduced for Amiri, which enabled Grillitsch to move into a slightly higher position playing as the lone holding midfielder. Nico Schulz and Pavel Kadeřábek would shift into a five-man defense when Leipzig accessed the final third, The one-third of the pitch that is closest to the opposition's goal. while the defender on the other side would move into a central position next to Grillitsch when Leipzig were trying to build their attacks on one side to increase their compactness.
As a result, Leipzig gained control and enjoyed dominating spells of possession where they stabilized and built their attacks a lot better. With the technically excellent Kevin Kampl being introduced, Leipzig began to play more vertically through their midfield, pushing Hoffenheim into deeper positions of the pitch. This was partly down to Kampl and Adams offering stronger passing connections from the center-backs, while the away side struggled to maintain their pressing intensity as spaces generated, allowing Leipzig to play through the flanks more frequently with the use of overlapping runs for chance creation.
In the 53rd minute, Willy Orban should have brought his side back level from a set-piece, which is where Leipzig's best chances originated from. However, Leipzig's efforts were finally rewarded in the 89th minute. Orban, again, found himself in the 18-yard-box to score the equalizer after a cross took advantage of Hoffenheim's lack of organization.
Takeaways
Leipzig's second half changes were enough in the end to seal a point. The 4-2-2-2 system suited their personnel as opposed to the 3-3-2-2 they started off with. Rangnick managed the game well, despite going down a goal and found the solution with the effective system change, while Kampl's inclusion was also highly effective in their possession play.
Hoffenheim's build-up strategy in their diamond was effective in playing through the midfield in the first half, in which they were convincingly the better side. They struggled to adjust to the 3-5-2 system change as Leipzig got into the rhythm of the game in the second, thus a draw is arguably the most fitting result.
Use the arrows to scroll through all available match plots.