Atlético Madrid – Real Sociedad: Atlético Cruise To Easy Win Over Impotent Sociedad (2-0)
Atlético Madrid controlled the game from beginning to end and relied on their defenders to make the difference up front. Real Sociedad tried to respond with counter-attacks and their own spells of possession on numerous occasions, but their weak attack consistently came up short against Atlético's solid defensive structure.
Diego Simeone's men hosted Real Sociedad off the back of a horror-show away to Dortmund in the Champions League. That game, while perhaps not indicative of a crisis, represented that all had not been well with Atlético to start the season. And yet, despite the fact that Diego Simeone had not managed to produce a strong offensive system all season, a win against Sociedad would see Atlético move to the top of the table ahead of Barcelona.
Consequently, Simeone looked to secure the victory by finally dropping the ancient Juanfran for the superior Santiago Arias, in addition to benching Thomas Lemar, Thomas Partey, and Filipe Luís. They were replaced by Ángel Correa, Rodri, and Stefan Savić (José Giménez likely would have started in place of Savić had he not been injured). They all lined up in Atlético's classic 4-4-2 formation and Saúl Ñíguez, who had played as a central midfielder versus Dortmund, took up a wide left position.
If Atlético's attack had been uninspiring coming into this game, Real Sociedad's had been close to abysmal. As of October 8th, they were the third worst team in the league at creating chances from open play, and as of prior to this game, they had managed to accrue only 10.6 expected goals in nine games. This was made worse by the fact that their best attacker, Mikel Oyarzabal, could not play because he woke up sick.
Aside from Oyarzabal's medical issues, manager Asier Garitano also had to contend with injuries to right back Joseba Zaldua, defensive midfielder Mikel Merino, and left-winger Martín Merquelanz, with center back Diego Llorente having been out of commission since the beginning of the season.
Garitano responded by deploying his team in a 4-2-3-1 formation and by placing homegrown talent Luca Sangalli at the fulcrum of the offense as a 'number ten.' Striker Willian José and wingers Rubén Pardo and David Zurutuza rounded out the attack ahead of a sturdy double pivot of Igor Zubeldia and Asier Illarramendi.

Real Sociedad's impotent attack provides no trouble for Atlético Madrid's seasoned defense
Real Sociedad had very little of the ball for large portions of the game, meaning that they needed to have either a strong transition-based offense or a hyper-efficient possession-based game to create opportunities. Unfortunately for their traveling fans, their team had neither.
Part of this was down to the personnel. Central attacking midfielder Sangalli had a horrible game and was rarely able to provide himself as an outlet to aid counterattacks or penetrate Atlético's defensive block. Like wingers Zurutuza and Pardo, he coughed up possession cheaply and lacked the spark necessary to initiate offensive movements.
However, Garitano is not blameless. He would have known that wide areas would have been the only avenue of attack against Atlético Madrid's disciplined 4-4-2 medium block A medium block refers to a team that retreats in their own half out of possession, generally only disrupting their opponents some way into their own half., and yet, the prepared attacking patterns were unimaginative and poorly executed. When the ball shifted to the right, Willian José tried to provide support to Zurutuza by runs into the channel and Sangalli attempted to provide aid by positioning himself in the half space, but it was too easy to deal with. Atlético simply shifted their defensive lines over to the right and condensed the space in question.


Real Sociedad in possession versus Atlético Madrid's organized 4-4-2 medium block

Sociedad had no counter-play for this. They failed the few times they tried to switch the ball to the opposite flank and any attempt to recycle possession and restart the attack was botched by poor touches and poor passes.
Hence, they only managed a single shot in the box and only looked threatening from a solitary Pardo shot from 22 yards out.

Atlético Madrid's attacking system dominates possession in the first half without creating much
Diego Simeone's offensive structure was very curious in this game.
Usually, when Atlético are in possession, their wide midfielders take up deeper positions in the half spaces to aid clean ball progression. In this case, Simeone ordered his wingers to sit on the shoulder of the defensive line. This tactical ploy created huge spaces between the front four and the double-pivot of Rodri and Koke.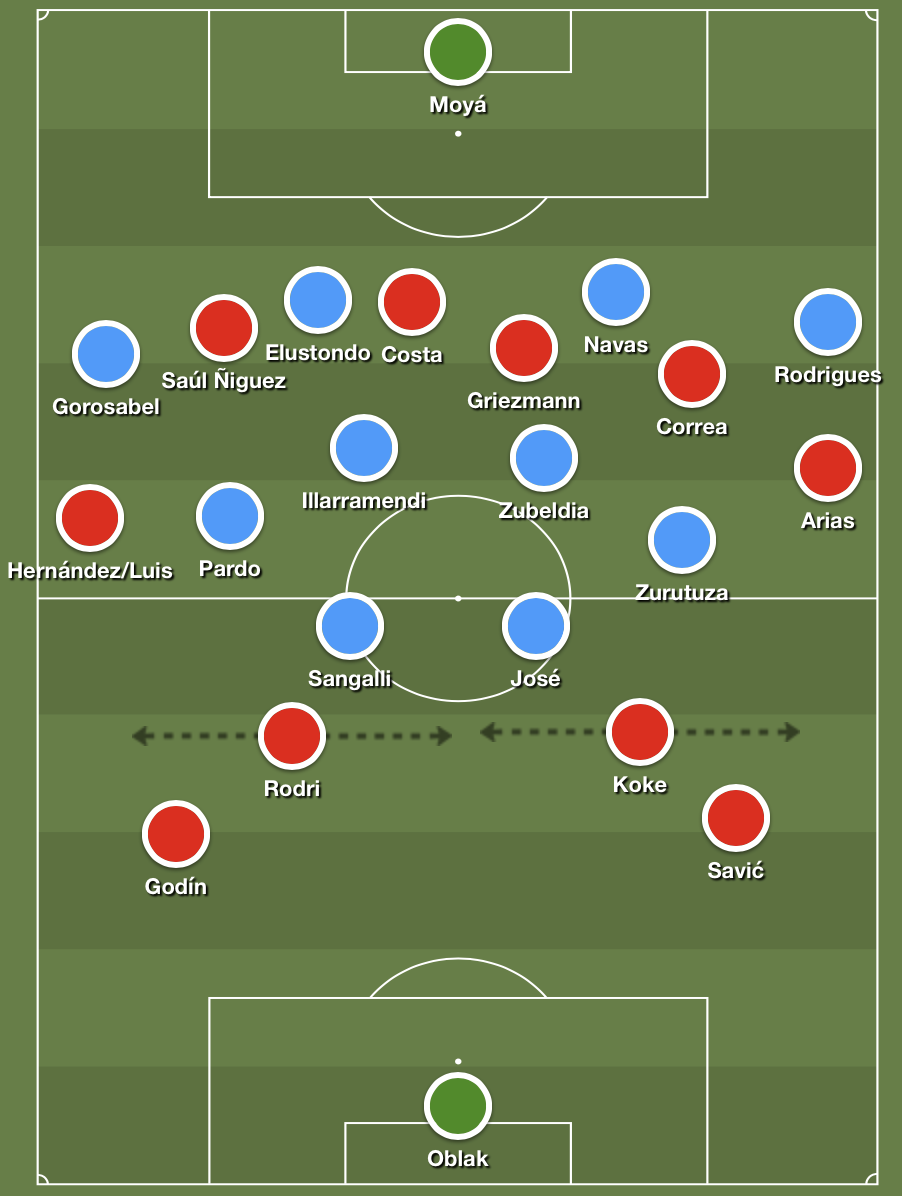 Atlético Madrid's attacking shape in possession versus
Real Sociedad's centrally compact 4-4-2 medium block

It is possible that Simeone wanted to create a direct passing system where Rodri and Koke would play vertical passes into the feet of Saúl, Griezmann, Costa, and Correa, but Sociedad prevented this from happening. They organized themselves in a very centrally compact 4-4-2 shape, by having wingers Pardo and Zurutuza tuck in-field. Illarramendi and Zubeldia provided support to the arrangement by astutely shielding their back line.
But since Sociedad were so narrow and their fullbacks were occupied by the threat of Saúl and Correa, fullbacks Lucas Hernández and Santiago Arias were always free to receive the ball to move play to the final third.
And though this made ball retention and progression into the final third easy, the home side struggled to make their dominance pay for most of the first half. A lot of this was down to some unimaginative play on their part, as Atlético were content to lump the ball into the box as their main attacking strategy.
Sociedad, who were well organized in the box, easily dealt with these efforts and were hardly threatened for the first 45 minutes.
There were only two real exceptions to these predictable patterns. The first came when Sociedad's central compactness went awry and Correa drifted to the edge of the box to flick a clever pass into the path of Costa. Sociedad prevented the shot but Correa capitalized on the disorganization by making a run into the box to play a cross to Griezmann. The ball ricocheted off some defenders and eventually found the Frenchman, who scissor-kicked his effort just over the bar.
The second moment came at the very end of half-time, and Correa was once again the protagonist. Correa received the ball on the right-hand side of the box off a throw in, showed great strength and balance to spin past his defender, and punched a cross at goal. The delivery was deflected straight into Godín, who poked the ball home.

Diego Simeone's changes in the second half seal the victory
Interestingly, Simeone reacted to his 1-0 lead by making an offensive change and bringing on Filipe Luis for Lucas Hernández. He also made slight adjustments to his scheme and asked his side to become more direct, evidenced by the fact that they played ten more long balls in the second half.
Simeone's tinkering worked, as the increased service to Griezmann and Costa allowed Atlético's players to win second balls in central areas and attack from the front of the box rather than the sides. This worked in tandem with the introduction of Filipe Luis, because the presence in central areas narrowed Sociedad's already compact shape and allowed the left back to rove into space to fire off crosses.
All of these factors culminated to create the second goal of the game. In the 60th minute, Atlético Madrid won the ball back from a counterpressing action and found the overlapping Luis. The Brazilian isolated his man in the box, cut inside, and detonated a stunning effort into the top corner.
From then on, the game was a cakewalk for Atlético. Sociedad's fight flickered and their feeble high press following Luis' goal was easily bypassed and left them exposed.

Takeaways
Atlético Madrid will have been pleased to have recovered from their humiliating defeat to Dortmund with a comfortable win at home. They now sit at the top of the league table and will be hoping to make a real run at the title this year. In order for that to happen, their offense likely needs to improve, though Simeone might argue that he can continue to grind out 1-0 and 2-0 wins for the rest of the season.
Real Sociedad's offense also needs a lot of work. Missing Oyarzabal can't have helped but Garitano's tactics have been stale all season long even with his best attacker in the lineup. Maybe a signing in the winter window is not out of the question if the Sociedad manager cannot find a solution.


Use the arrows to scroll through all available match plots.