Barcelona – Bayern Munich: Bayern Beat The Press (0-3)
Barcelona's pressing in the previous match between these two teams was their best aspect, but this time the decisive moments in the game saw Bayern beat the press to go ahead in the first half. From there, things were fairly simple for the away side, as Barcelona were unable to break them down.
Tactical analysis and match report by Josh Manley.
Barcelona started this match knowing that their Champions League exit was guaranteed, after Inter had secured their qualification earlier in the evening. Xavi's side had already lost their away fixtures against Bayern Munich and Inter, before only managing a draw against Inter at Camp Nou two weeks ago.
Xavi started with a surprise in the back four in this match as Marcos Alonso was deployed as a center-back alongside Jules Koundé. Héctor Bellerín and Alejandro Balde were the fullbacks, while Sergio Busquets played as the defensive midfielder in their 4-3-3 shape. Franck Kessié and Frenkie de Jong were ahead of him, while Pedri played on the left side of the attack which also featured Ousmane Dembélé and Robert Lewandowski.
Bayern meanwhile had a perfect winning record in their four group games prior to this match, scoring twelve goals and only conceding two along the way. Furthermore, their win over Inter on the opening matchday helped to put them in a great position to finish top of the group going into the final two games.
Julian Nagelsmann's team lined up in a 4-2-3-1 shape here, with Noussair Mazraoui, Dayot Upamecano, Matthijs de Ligt, and Alphonso Davies in the back four, while Joshua Kimmich and Leon Goretzka were the double pivot. Serge Gnabry and Sadio Mané were the wide attackers, while Jamal Musiala played the number ten role behind striker Eric Maxim Choupo-Moting.
Barcelona's early struggles
Bayern were able to take the lead after just ten minutes via Mané, after Barcelona's high press had been broken by the away side. It was in similar circumstances, albeit in more of a transitional moment, that Bayern made it 2-0 twenty minutes later, as the space behind Barcelona's defense was once again exploited.
Barcelona did not always press high, and in fact struggled sometimes to establish themselves higher up the pitch at times. When they did press high though, it usually saw them forcing Bayern towards their right side, as Lewandowski stood near De Ligt, meaning the ball usually went to Upamecano.
Pedri would pressure the ball here, with Balde stepping up from left back onto Mazraoui and De Jong or Busquets from midfield pushing out onto Kimmich. Bayern often took up a 4-3-3 shape in their possession phases, so Musiala would tend towards the right halfspace, while Goretzka pushed up in the left halfspace.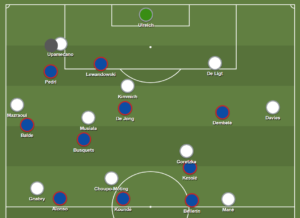 This was the scene in the buildup to Bayern's first goal, where Barcelona's high pressing can be seen. Bayern beat the press with a chipped pass over the Bareclona midfield, before releasing Mané in behind the defense.
Choupo-Moting proved very useful for facilitating third-man combinations with his back to goal, and Bayern often sought him in buildup or transition situations with more direct passes. Gnabry and Mané then provided a threat running beyond him.
Barcelona's pressing did improve somewhat as the first half progressed, and were able to limit Bayern's dangerous breakthroughs somewhat. The damage was already done at this point with them being behind on the scoreline.
Adaptations in possession
The use of Pedri on the left side of the forward line naturally meant that Barcelona would not have a natural winger on this side, since Pedri's characteristics lend him much more utility in central areas of the pitch.
Pedri's indenting from the left side meant that it was left to Balde to cover the left wing, although he sometimes could not push up early during the buildup phases as this risked a loss of stability for Barcelona against the pressing of Bayern, which sought to keep the game in Barcelona's half.
Barcelona then essentially had a box in midfield, with Busquets and De Jong in deeper positions, while Kessié usually pushed up in the right halfspace at the same height as Pedri. Dembélé then held the width on the right while Bellerín was flexible with his positioning from right back, able to play a more reserved role or provide supporting runs for Dembélé.
Barcelona's possession structure with Pedri drifting in from the left. 
Dembélé was often the main outlet for Barcelona. Even when isolated against an opponent as tough as Davies, he was the one player able to change the tempo and cause some chaos for the Bayern defense.
In central midfield, Barcelona did have good occupation at times, and thanks to the ingenuity of De Jong and Pedri in certain moments, were able to break through some of the Bayern pressure and move the game into Bayern's half.
Bayern untroubled
The first half had seen Barcelona unable to muster a shot at goal for over thirty minutes as they were largely outplayed by Bayern's pressing and transition game. The second half was not that much better as Bayern's 4-4-2 defensive block continued to look compact.
There were a raft of changes from both teams in the second half which actually disrupted the rhythm of the game a bit. With both teams fairly certain of their position in the group, and with a Barcelona comeback becoming less likely with every minute that ticked by, the game did lose some quality as the second half progressed.
Xavi had tried to shake things up around the hour mark with a double change and a switch of formation. Ferran Torres and Raphinha were introduced in place of Busquets and Pedri, as Barcelona switched to a 4-2-3-1 shape with Raphinha, Torres and Dembélé as the trio behind Lewandowski.
Bayern meanwhile did not make a system change but did make substitutes of their own, as Marcel Sabitzer replaced Goretzka at half time, before Thomas Müller, Benjamin Pavard, and Ryan Gravenberch made appearances going into the final twenty minutes of the game.
Barcelona had flashes of promise in attack, but Bayern remained diligent until the end when it came to defending their own box. Bayern did not allow themselves to be pinned in either, as they still showed the ability to put together good possession phases with Kimmich being a composed presence who linked the midfield together as always. Bayern were able to round things off in the final minute of stoppage time as Pavard scored after a set-piece situation, set up by Gnabry who picked up his third assist of the night.
Takeaways
Barcelona were the inferior team for most of this. There were some decent moments with the ball, but no clear-cut chances were created. Their inability to control transitions hurt them last time out against Inter, and it was seen again here.
Bayern put on an efficient display here. Their two goals in the first half an hour saw them exploit Barcelona's weakness and put the game to bed. It was comfortable for them from this point on. Nagelmann's side have secured their first place position going into the knockout rounds, and will be a difficult proposition for any team to face.
We decided to make this article free to read. If you want to support our work, consider taking a subscription.
Use the arrows to scroll through all available match plots. Click to enlarge.
Check the match plots page for plots of other matches.