Chelsea – Manchester City: City's Press Reigns Supreme (0-1)
Manchester City's press has often found difficulties when up against Chelsea. However, after a cagey first period, City increased their control and nullified their opponents in a way which we had yet to see.
Tactical analysis and match report by Joel Parker. 
Breaking through the world's best defensive organization has been no easy task for one of football's great minds. Three times Pep Guardiola had encountered Thomas Tuchel's 5-2-3 set-up; three defeats, the most recent coming in the Champions League final.
The FA Cup semi-final produced a slow and methodical display, decided by Chelsea's wing-backs being able to draw City's fullbacks out easily. City had better openings in the league fixture, which saw a curious 5-1-4 formation being deployed, though more fluent Chelsea patterns flourished in the second period.
These two fixtures saw both teams heavily rotated, but Pep's quest for another solution, by implementing the 3-4-3 diamond shape, failed on the biggest stage of all. With the stakes still high, Guardiola drew up new tactical plans in an attempt to keep up with his new nemesis, who sat on top of the table, three points ahead.
Tuchel made four changes, to the team that comfortably dispatched Tottenham last weekend. Edouard Mendy returned in goal, whilst Reece James also returned to the defense, to replace Thiago Silva. N'Golo Kanté and Timo Werner were also recalled, as Chelsea remained in their 3-5-2 shape, that they changed into against Spurs after the half-hour.
City also made four changes to their team. Aymeric Laporte started as the left center-back, whilst Rodri, Kevin de Bruyne and Phil Foden all returned to the starting eleven. Their biggest exclusion was İlkay Gündoğan, who missed out due to injury.
Cards close to the chest
With slight tweaks in game plans, it is fair to say that both Chelsea and Man City anticipated different shapes from one another. This set a first half which was constantly poised, as Chelsea's defense and City's press cancelled each others offense.
Man City pressed in the 4-2-3-1 shape, spearheaded by Foden with De Bruyne behind him. The success of this scheme came thanks to two factors: stopping close circulation for Chelsea and not allowing their fullbacks to be dragged forward, for Romelu Lukaku or Werner to run in behind.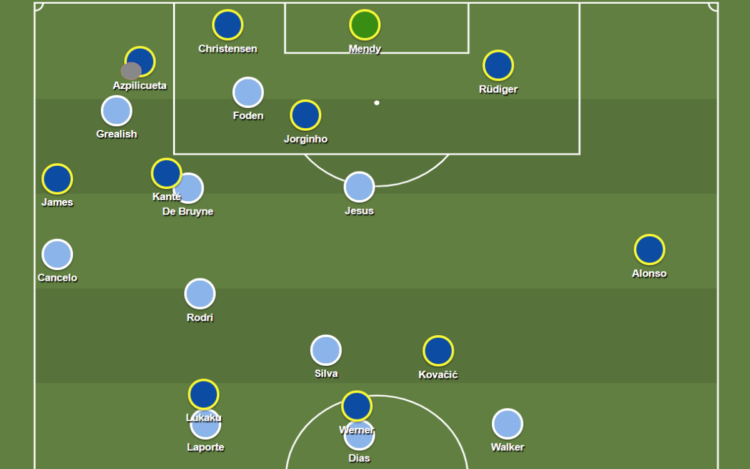 Second minute: Chelsea's 3-5-2 buildup shape faced issues as Man City's 4-2-3-1 pressing scheme forced their opponents down the channel and squeezed space to deny short passing routes. In this phase, Rodri won the ball back after intense pressure.
In their press, the far-sided forward, either Jack Grealish or Gabriel Jesus, moved infield which kept their shape narrow and compact. This enabled Man City to overload whilst the staggering between Rodri and Bernardo Silva was effective in both applying pressure and denying space for Chelsea forwards.
Though Chelsea did not lose the ball in dangerous areas, they failed to build inside patterns that can harm their opponents, which mostly comes through the third man runs that their midfielders can produce. The fact City could press with one of the central midfielders enabled João Cancelo and Kyle Walker to track their opposite numbers or double up on a Chelsea forward. After forty-five minutes, Lukaku had just eight touches of the ball.
As a result, the bulk of play saw Man City attempt to play through the 5-3-2 formation that Chelsea set in. Their shape resembled a 3-3-4/3-3-1-3 system; asymmetry between both fullbacks, Bernardo Silva in and out of the same line as Rodri, whilst Foden made runs behind the pressing center-back
24th minute: Man City's 3-3-4/3-3-1-3 shape versus Chelsea's 5-3-2 defensive block: A Cancelo carry, in between the wing-back and right center-back, was able to get Man City forward, but inside options were not available.
Problems for City arose because Chelsea center-backs did not press as much as usual, whilst their ball circulation favored the left side with little substance down the right. With three central midfielders selected, Kanté or Mateo Kovačić were able to push up with Jorginho covering their spaces. Chelsea kept their central compactness and City didn't produce the rotations to unlock De Bruyne or Foden.
City's game plan in possession resulted in them overloading the left and attempt to get Foden behind César Azpilicueta – then Andreas Christensen after the half-hour mark, as Reece James was forced off with an injury. The ball continuously worked back towards that area and Man City did not produce the fluency as one would expect.
However, warning signs started to show towards the first half's conclusion, as Cancelo and Grealish started to move the ball into good positions thanks to their carrying. Chelsea defended the box effectively, but City was able to move down the channels, whether Azpilicueta was drawn out and the pass made behind or space was found in front of the wing-back.
Tuchel adjusts, Pep gains
Chelsea's shape changed at the beginning of the second period. Tuchel moved his team back into a 5-2-3/3-4-3 formation, with Kovačić as the third attacker. This change was understandable: Chelsea had just gone through their quietest attacking period of the season and the 5-2-3 shape offers another option on the transition.
However, this played into Man City's hands and they got into even more dangerous positions. Grealish constantly moved in between the right wing-back and center-back, whilst Azpilicueta was pulled out of the defensive line more to deal with Cancelo.
Furthermore, a slight tweak in De Bruyne and Foden's positioning gave City better balance in their circulation. Foden was now operating more towards the right, to move behind Antonio Rüdiger. This stretched Chelsea's defensive line further, and although they covered similar positions throughout the game, City was now operating with two false nines, rather than De Bruyne in the ten space.
47th minute: Wall-pass move to get Grealish between defenders, on the transition. Rodri completes lateral pass (Grey ball, first pass) to De Bruyne, who is in space and with lane open to Grealish (Black ball, second pass.)
Man City got their goal eight minutes into the second period. From a short corner, Man City moved the ball to Cancelo, whose attempted shot worked well for Jesus. His shot on the turn was deflected and bounced past a static Mendy in the Chelsea goal. A fortunate finish, but one City had deserved.
The trio of Cancelo, Grealish and De Bruyne continued to produce the most danger after this point, as they increased the tempo which made Chelsea's defense look very uncharacteristic. Grealish came close with a shot from an acute angle, able to find separation from Azpilicueta on the one-versus-one. However, their closest chance came on the transition, with the Chelsea wingback far up the pitch and Cancelo beating him for pace. His low ball across goal reached Jesus, but his shot was blocked on the line by Thiago Silva.
More changes but still disconnected
Kai Havertz was introduced for Kanté on the hour mark and with the return of regular starters in the usual system, one would expect Chelsea to produce more consistent patterns. But this was not the case.
Chelsea's attack was heavily direct, Jorginho and the wing-backs only finding the forwards with longer passes or crosses into the box. This problem was created by the spacing between the attackers and the rest of the team, highlighted by how easy it was for Man City to move the ball vertically towards the left channel.
Aymeric Laporte and Rúben Dias constrained Lukaku like we haven't seen before this season.#CHEMCI pic.twitter.com/71rlGOqWnu

— Between The Posts (@BetweenThePosts) September 25, 2021
Once off the bench, Ruben Loftus-Cheek provided more dynamism in the buildup, as his third man runs were able to move Chelsea past Man City's press on a number of sequences. However, this didn't change Chelsea's form of chance creation, as they failed to connect on crosses.
Man City pressing scheme and rest defense effectively nullified their opponents. When they sat deeper, Guardiola's team remained in their 4-2-3-1 system, which forced Chelsea out wide and squeezed such space down the channels by pressing higher up. As a result, Tuchel's team had very few passing moves in the opposition half. Guardiola only made changes in the last ten minutes, without altering his team's shape, as his team saw out a huge victory at Stamford Bridge.
Takeaways
Chelsea lose their first match of the season and an impressive record against the champions. The change of shape at half-time was necessary, to get more productivity out of the attack, but Tuchel's team ultimately surrendered space for very little trade-off. Their domestic fixture list eases after this point, but an away trip to Juventus in midweek will provide another stern tactical battle.
Victory was huge for Man City and Guardiola, who has found his formula against Chelsea. Ultimately, it was the defensive set-up that got them over the line, as well as the most productive left side the league has to offer. In perhaps the toughest week of fixtures that Man City has to face, with trips to Paris Saint-Germain and Liverpool waiting, they've got off to the perfect start.
We decided to make this article free to read. If you want to support our work, consider taking a subscription.
Use the arrows to scroll through all available match plots. Click to enlarge.
Check the match plots page for plots of other matches.