Eintracht Frankfurt – Benfica: Intense Frankfurt Beat Benfica And Advance On Away Goals (2-0)
Frankfurt were able to dominate the first half of the game, chasing a 4-2 aggregate deficit. In the second half, Benfica came out stronger, and found more success against Frankfurt's pressing, which had pinned them back in the first half. Nevertheless, Frankfurt's direct attack helped them to a second goal, and they were able to see the game out to go through on away goals.
Tactical analysis and match report by Josh Manley.
Frankfurt made two changes from the 4-2 loss they suffered in the first leg. Martin Hinteregger dropped out of the lineup, and was replaced by Mijat Gaćinović. This change meant that Makoto Hasebe would play center-back, and Gelson Fernandes would drop into a holding midfield role, with Gaćinović and Sebastian Rode either side of him. The other change was at left center-back, in Frankfurt's 3-5-2 formation, where Evan N'Dicka was replaced by Simon Falette.
Benfica themselves also made two changes within their 4-2-3-1 shape from the first leg. Firstly, right-back Sébastien Corchia was replaced by André Almeida. Secondly, Franco Cervi dropped out in favour of striker Haris Seferović, meaning that João Félix moved to the left side of midfield after playing a central role last week.
Frankfurt dominate first half
The majority of the first half was played in Benfica's half of the pitch, as Frankfurt looked to stage a comeback after their first leg defeat. The formations of the two sides though were conducive to loose man-marking approaches at the very least.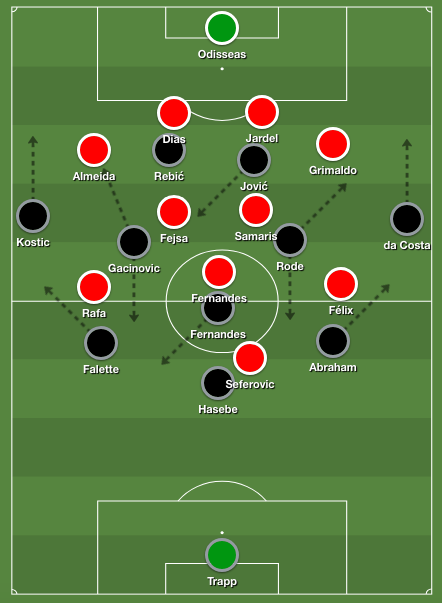 The way Frankfurt positioned themselves when attacking, against Benfica's defensive 4-4-1-1 / 4-2-3-1 formation
Benfica's attacking midfielder, Gedson Fernandes, would usually mark his namesake Gelson Fernandes who was the deepest midfielder for Frankfurt. Benfica's wide midfielders would try to push up to the wide center-backs of Frankfurt to prevent them from building from the back. Furthermore, the central midfielders of Benfica naturally found themselves marking their direct opponents, but were reluctant to follow them when they dropped into deeper areas.
This was somewhat important, as it was hard for Frankfurt to build constructively through midfield areas with the matchup of the formations as they were, as there were no inherent positional advantages to be found. But the simple action of either Gaćinović or Rode dropping deeper alongside Fernandes, knowing that they would not be pursued by Benfica's double pivot, 4-2-3-1 is one of the most frequently occurring formations in football. The two most defensive midfielders are called a 'double pivot'. helped Frankfurt to progress into midfield in moments where they were struggling.
This was a feature of the buildup to Frankfurt's first goal in the 37th minute, where Rode dropped deeper to help them switch the play from left to right. Another role of the central midfielders in this system was to provide diagonal runs in behind Benfica's fullbacks, as is often the case for central midfielders in a 3-5-2 formation. This was also seen in the buildup to the first goal, where Gaćinović's runs drags Andreas Samaris into his own left back area freeing up the halfspace If you divide the field in five vertical lanes, the halfspaces are the lanes that are not on the wing and not in the center. Because there is no touchline like on the wing, players have freedom to go everywhere. But this zone often is not as well-defended as the very center. This makes it a very valuable offensive zone to play in and a lot of chances are created by passes or dribbles from the halfspace. for Danny da Costa to cut inside.
Frankfurt are not a team that always has to build up with shorter passes, though. They are quite comfortable to play direct and then look to counterpress any resulting second balls in the opposition's half. This is especially the case when the ball goes back to the goalkeeper, as Frankfurt then look to push up the pitch and play long towards the strikers rather than play on the floor.
Frankfurt would have plenty of numbers (four midfielders plus two strikers) in advanced areas to counterpress the second ball, meaning Benfica's chance of winning these duels were diminished. This aspect was seen in the lead up to Frankfurt's second goal, which came in the 67th minute after Frankfurt were able to pounce on a failed Benfica clearance after a Frankfurt long ball.
Benfica gain some control
In the second half Frankfurt didn't find themselves with the same territorial dominance they had in the first half, as Benfica began to enjoy more of the ball.
For much of the game, Frankfurt played with a very aggressive pressing game. Whereas most teams who use a 3-5-2 or similar formations will inevitably fall back into a five-man defense when they lose the ball, Frankfurt very rarely did this until the final stages of the game where they were holding onto their lead.
Instead, they took a very aggressive stance. The strikers, rather than screening passes into midfield, would pressure Benfica's center-backs as soon as possible when they were on the ball. The Benfica central midfielders were marked by their opposite numbers from Frankfurt. Meanwhile, Frankfurt's wing-backs took high starting positions to directly pressure Benfica's fullbacks when they received the ball.
The initial central pressure from the strikers and central midfielders of Frankfurt meant that Benfica were often forced long or into wide areas anyway. Frankfurt pressed aggressively in these moments when the ball was forced wide, and were often able to trap Benfica in their half like this, especially in the first half.
This is also a risky pressing approach, though, as was seen slightly more frequently in the second half. The aggressive pressing behaviour of the wing-backs means that there are of course large spaces left behind them which can be exploited if the pressure on the ball is broken by the opponents.
When Benfica's wide midfielders drifted into these areas behind the Frankfurt wing-backs to receive the ball, Frankfurt's wide center-backs then had an issue. Nominally, they would be required to mark the Benfica wide midfielders, but there are clear risks to getting dragged into wide areas in this way, as they were rightly reluctant to allow large gaps to open between themselves and the middle center-back, especially when Fernandes made runs in behind from deep.
Benfica change up their system
Nevertheless, despite these dents in their defensive system, Frankfurt were able to remain strong against Benfica's attacking advances. Some minutes after the second Frankfurt goal, Benfica changed to a back three themselves, as Pizzi and Eduardo Salvio were introduced in quick succession.
Benfica's change to a 3-4-3 shape actually simplified things slightly for Frankfurt's wing-backs when pressing though. Whereas before they would push large distances up the pitch in order to press Benfica's fullbacks, leaving Benfica's wide midfielders behind, they were now up against only one wide player of Benfica. Benfica's own wing-backs pushed forward, meaning Frankfurt's wing-backs were now pushed back into something closer resembling an orthodox back five as they looked to defend their lead.
They did so relatively well, as Frankfurt were able to see out the bombardment of crosses into the box from Benfica as they look to get the goal they needed to win the tie. The German side held on for the 2-0 win, which saw them go through on away goals.
Takeaways
A solid performance from Frankfurt in which they showed some of the intense pressing that coach Adi Hütter is known for, and he went on to praise his side's tactical discipline after the game. Frankfurt now look ahead to a tough semi final clash against Chelsea.
Benfica will of course be disappointed in giving up a two goal aggregate lead. Aside from his protests for offside at Frankfurt's first goal, coach Bruno Lage also stated that the pressure from his side was not good enough in the first half. Benfica's season is far from over though, as they still have a domestic title to contend for, with the side currently level on points with Porto in the Primeira Liga.
Use the arrows to scroll through all available match plots.