Everton – Manchester City: Midfield Positions Pivotal in Breaking Down Everton's High Block (1-3)
Manchester City's positional play was pivotal in the champions latest victory – despite Everton creating a number of chances from set-pieces. Both İlkay Gündoğan and Kevin De Bruyne were key to City's buildup on the flanks, as both teams had opportunities to take all three points.
Tactical analysis and match report by Joel Parker. 
Pep Guardiola's records against other managers is very impressive. Seven times he has sat in the dugout with Marco Silva opposite, and seven times Guardiola has walked out with a victory under his belt. Predictions for Saturday's late kick-off, unsurprisingly, were in Manchester City's favor, though this matchup pitted the league's best pressers versus the best ball progressors. 
Everton have yet to patch up an abundance of problems under Marco Silva – breaking down a low-block, team shape, defending set-pieces just to name a few. They have lacked any sort of effective game plan when on the ball, but out of possession, they have asserted themselves as one of the league's best pressing teams. 
Everton's attack shift into a new gear to get possession back, as Gylfi Sigurðsson moves into their forward line, whilst the team presses high in a 4-4-2 shape. No surprises that the Icelandic attacking midfielder featured in the starting eleven here, alongside Dominic Calvert-Lewin ahead of him. Richarlison was switched back onto the left wing, with Theo Walcott on the opposite side – though Walcott was taken off in the first minute, due to injury.
Manchester City have dropped points in the opening stages this season, yet Guardiola has broken more records once again. The 24 goals which they have scored in the first six matches, is a tally no top-flight team in England has reached since the mid-50's. No issues going forward, but in defense, injuries to Aymeric Laporte and John Stones have limited City's options at the back.
Fernandinho stepped in once again next to Nicolás Otamendi, with Oleksandr Zinchenko back in the Man City side. Guardiola made several changes to his 4-3-3 system, Raheem Sterling, making his 200th appearance in sky blue, and Gabriel Jesus replacing Bernardo Silva and Sergio Agüero.
Playing through Everton's block
As all Manchester City games have gone in recent years, here, they dominated possession and began to look for options to progress. Everton were in their usual 4-4-2 shape but were not pressing as high as they usually do. Instead, Marco Silva's attack positioned themselves around the halfway line, with both wingers as part of the midfield line at all times.
Man City played through Everton due to the positioning of their midfielders and exploiting the halfspace.
If you divide the field in five vertical lanes, the halfspaces are the lanes that are not on the wing and not in the center. Because there is no touchline like on the wing, players have the freedom to go everywhere. But this zone often is not as well-defended as the very center. This makes it a very valuable offensive zone to play in and a lot of chances are created by passes or dribbles from the halfspace.
Both İlkay Gündoğan and Kevin De Bruyne occupied the space between Everton's central-midfielders and winger, providing an important link when Man City progressed the ball forward. Guardiola's men had created an overload When one team has more players in a certain area or zone than the other team. down both channels.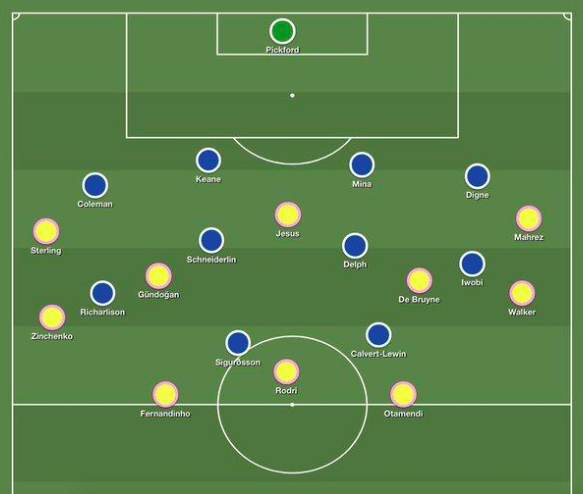 Man City are capable of passing forward because of the positions of their midfielders.
Although Gündoğan and De Bruyne had opposition bodies around them, neither Fabian Delph nor Morgan Schneiderlin tracked back when they were beaten, therefore space was created for a forward pass. Both Riyad Mahrez and Raheem Sterling had the option to make runs into these positions too, thanks to both Man City fullbacks supplying the width. 
An adaptable and effective way to play through your opponent, Gabriel Jesus scored the opener thanks to this system. Riyad Mahrez beat Lucas Digne in a one-versus-one and ran into space. Mahrez dragged Fabian Delph out of position because of it, which left De Bruyne completely free in front of the penalty area. De Bruyne's first-time ball into the area was a striker's dream, a beautiful, curling cross into the six-yard box… Jesus guided the ball home.
Everton rely on crosses to create
When passing sequences between City players broke down, Everton transitioned into a more direct style of play than what is usually seen at Goodison Park. Dominic Calvert-Lewin targeted the right channel, with Everton players relying on his knock downs to gain access into the final third.
Everton's team shape was unbalanced when in possession, with limited passing options and being swarmed by Man City players. With the ball on the flanks, the only option for Marco Silva's men was to cross the ball into the penalty area.
Everton's positions when about to cross.
Everton players targeted the back post in most crosses; a tactic which heavily relies on quantity if you are to threaten the opposition. Marco Silva's men would equalize due to a City error, Sigurðsson's cross was poorly mis-cleared and straight into the path of Alex Iwobi. The ball would find its way to Seamus Coleman, who chipped Ederson and finished on the line by Dominic Calvert-Lewin.
Vertical versus direct
Manchester City's control in possession was limited in the second half, as Everton gained much more entry into the middle and final thirds. The City defense conceded fouls in great positions for Everton to deliver the ball into the penalty area – Silva's men targeting Zinchenko on the right channel.
Guardiola's team didn't stop making progress though – Kevin De Bruyne moving more forward in attacking transitions, whilst Gabriel Jesus dropped deeper to provide a passing link to Gündoğan and allow more space for Raheem Sterling to run into. 
This created a match stacked full of chances, Everton's long, direct style versus Man City's ball orientation and vertical passing structure. Man City had the upper hand in open play, rapidly pinging the ball around in the opposition half and every pass from De Bruyne making your jaw drop; but Everton posed a huge threat of their own from set-pieces.
Eventually, Man City would break through, despite losing their momentum with the game coming into the final twenty minutes. A brilliant, bending free kick from Riyad Mahrez was enough to beat Jordan Pickford at the far post. Marco Silva's reaction was to take off one of Everton's more creative players in Alex Iwobi, in order to put on Moise Kean on the wing.
Manchester City would kill the game off in some style, passing around a knackered Everton before substitute Sergio Agüero released Mahrez in the halfspace. Sterling's shot hit the inside of the crossbar, bouncing over the line. 
Takeaways
A brief look at Everton's results up to this point indicate a team lacking ideas when it comes to the final third. It's unusual that their best attacking display this season has come against the champions, but Everton were always going to look better when they can focus out of possession, rather than how to break down a low block. Pressure will certainly mount on Marco Siva if results do not come their way, seven games, seven points, with a lot of tactical issues. 
Even at this point of the season, Manchester City's victory was an important one. Breaking through Everton's 4-4-2 high block has proven to be tough for the Premier League's top clubs at Goodison Park; there were times that Man City made it look easy. Wolverhampton Wanderers will be the next team they face, another challenging defensive unit for Guardiola to exploit.
Use the arrows to scroll through all available match plots. Click to enlarge.
Check the match plots page for plots of other matches.