João Félix And The Dawn Of A New Atlético
Atlético Madrid are betting their future on the performance of their new signing, the young João Félix. In this article, we attempt to explain why Atlético needed a Griezmann successor so badly, why Félix could be that successor, and what tactics can Simeone and his staff use to build a good collective structure around him.
Written by José Pérez.
Last month, Atlético Madrid surprised the world of football by paying a whopping 126 million euros for starlet João Félix. This is the third most expensive transfer in history, and it was done for a 19-year-old kid who, talented as he may be, has only played a single season of top-flight European football.
#PuroTalento pic.twitter.com/ehvuo8YBNI

— Atlético de Madrid (@Atleti) July 3, 2019
This transfer represents a loud and clear statement. Despite losing most of their squad core to age-related decline and several others to other European giants, Atlético wants to keep competing against European superclubs, both on the pitch and financially.
After many successful years at the club, veterans Filipe Luis, Juanfran and captain Diego Godín are moving on. World-class prospects Lucas Hernández and Rodri Hernández – who were poised to lead Atlético for the next decade – left the club in big money moves to Bayern Munich and Manchester City. And finally, offensive star Antoine Griezmann – one of the most decisive forwards in the world – left for Barcelona. Griezmann's departure represents a massive hit for Atlético's offensive system.
Atlético's increasing Griezmann-dependence
Atlético's offensive numbers have declined over the last two years. Simeone's Atlético averaged 68 goals per LaLiga season over the years 2012 through 2017. However, the last two seasons they have only averaged 57 goals. The decline in their expected goals created confirms that this goal scoring decline is not a statistical fluke nor a problem of poor finishing. It is an issue of chance creation. 
To expand a bit, Atletico's attacking and defensive numbers have both been trending in the wrong direction since the end of last season. pic.twitter.com/6v6jO4mz2I

— Ray Hamill (@FinerMargins) January 14, 2019
This offensive decline is a good example of why, from a tactical perspective, Atlético and Griezmann were always a complicated marriage. For the last three years, Simeone and the Atlético administrators have shown some interest in signing and developing more creative midfielders and wingers to surround Griezmann with, such as Thomas Partey, Thomas Lemar, Rodri Hernández, or Gelson Martins. 
However, Atlético's actions on the pitch reflected very different intentions from those shown in the transfer market. Simeone and his staff asked these creative players to send the ball long to the strikers when pressured, which seemed at odds with their skill sets. And with each passing season, it seemed like this mismatch between Atlético's increasingly creative squad profiles and their direct attacking philosophy got more pronounced.
This disparity meant that Atlético's attack often looked collectively dysfunctional and depended more and more on Griezmann to produce shots and goals. Between 2014 and 2017, Griezmann scored or assisted 37% of Atlético's league goals, but in the two most recent seasons he scored or assisted 46% of Atlético's goals.
Rebuilding Atlético: Looking for the next Griezmann
Given Atlético's dependence on Griezmann, his departure to Barcelona placed the club at a crossroads. Atlético had to rethink their offensive system around completely new principles or find another top-class, all-round attacker like him in the transfer market.
João Félix is Atlético's attempt to finding and developing that Griezmann successor, since the players do share some similarities. Atlético felt the need to take the gamble on the 19-year-old this season, because if Félix continued his expected progression, he would be out of Atlético's financial reach in subsequent summers
Like Griezmann, Félix's primary role at Benfica was that of a second striker in a 4-4-2 formation, displaying great final passing and world-class finishing skill. Both strikers are not elite speedsters nor dribblers. Their game relies more on their outstanding intelligence and understanding of the space around them than on one-versus-one ability.
These skills led Félix to an outstanding haul of fifteen goals and seven assists during the past league season at Benfica, at a rate of 1.14 goals and assists per game. He overperformed his expected goals by a massive 70%, which should immediately raise eyebrows among the skeptical, although his underlying numbers still stand out for a player his age. 
João Félix vs Frankfurt (H). Another insane performance, showcasing all his vision and end-product. It is only a matter of time until we see him as a star of one of the European giants.

(Video made by @dominiotactico) pic.twitter.com/JvYXj2otlJ

— AFCD (@Pass_to_Play) April 12, 2019
In the most optimistic scenario, outperforming expected goals might also reflect world-class finishing skill, even if this is still a long-standing debate among analytics enthusiasts. The eye test certainly implies Félix might be a good finisher, with outstanding body orientation in shooting situations. 
However, this was Félix's first season in top-flight football and to make proper stats-based judgements on his finishing skill, we will need a few more years of shot data. It will be interesting to see if he can become one of those elite finishers – such as Leo Messi, Heung-min Son, Alexandre Lacazette, or Griezmann himself – who manage to consistently beat the expected goal model, even if it is not his current 70%.
If the reader wants to watch games that showcase Félix's wide array of creative and finishing skills, we would recommend Benfica's Europa League 4-2 victory over Eintracht Frankfurt – see highlights in the tweet above – or the latest friendly between Atlético and Real Madrid – see the tweet below.
Role Model & Standard for aspiring Youth players…..Joao Felix vs Real Madrid ⚽️🧠:

– Vision & Precision
– Speed of Play
– Space Recognition
– Space Creation
– Receiving in tight spaces
– Link up play
– 1v1 Abilities
– Goal Creator & Goal Scorer@CoachPaintCH @msceducation pic.twitter.com/r1kaab0dB3

— Footy Analytics for Coaches, Analysts & Fanatics (@footyanalytics2) July 28, 2019
Will Félix be able to replace Griezmann in the short term?
Griezmann averaged 25 goals and assists per league season in his five years with Atlético. Asking João Félix to do this, as a 19-year-old in his first season in LaLiga, would be a tall order. He would have to maintain his expected goal and assist rates from last season, carrying them over seamlessly from the Portuguese Liga NOS to LaLiga, adapting to a new country, team, and teammates. 
In the current LaLiga format, the group of players who have reached more than 25 goals and assists in a single season by the age of 21 form a very select club: Javier Saviola, Juan Mata, Sergio Agüero, Gonzalo Higuaín, Leo Messi, Raúl González and Ronaldo Nazário. Apart from Saviola and Mata, we're talking about some of the very best forwards of the last 25 years.
Félix might surprise us and join this historic group of players, but it is clear that no one – from fans to Atlético management – should work under the assumption that he will produce such numbers this season. So at least for this season, Félix will need as much help as he can from the rest of his team.
Atlético's options to support the developing Félix
Especially in these last two years, Griezmann generated his yearly 25 goals and assists in the "desert" that was Atlético's dysfunctional offensive system. Assuming Félix will not be able to deliver Griezmann-level output on the short term, Atlético must compensate through collective means and improve their attacking mechanisms. Here are some potential solutions.
Improve chance creation by pressing more aggressively? 
Over the last five years, Atlético's pressing intensity has decreased, with the team increasingly defending in a deeper defensive block. A defensive block is the compact group of defenders that defends a particular zone, either their own half in a medium defensive block, or the zone around their own box in a deep defensive block. Data confirms this, with Atlético going from 8.5 passes allowed per defensive action Passes per defensive action (PPDA) is calculated by dividing the number of passes allowed by the defending team by the total number of defensive actions in the 2015/2016 league season to 11.5 PPDA in the 2018/19 season. With a new, younger defense and a top workhorse midfielder like Marcos Llorente, perhaps Atlético can once again increase their pressing intensity. This would help them recover the ball higher up the pitch and create more dangerous chances. Paraphrasing Jürgen Klopp, no playmaker can be as good as a good pressing system!
More forwards? 
This preseason, Simeone has looked for ways to accommodate forwards João Félix, Diego Costa and Alvaro Morata in the same lineup. An initial solution, has been to use a 4-3-1-2 midfield diamond setup, with Félix behind the striker duo.
Also very interesting seeing the new structure start to take shape: a 4-3-1-2/midfield diamond with Llorente at the base, Saul left, Herrera right, Joao Felix as a number ten, Morata and Costa up front. A big role there for Trippier and Lodi as full backs.

— Sid Lowe (@sidlowe) July 18, 2019
However, midfield diamond setups do have problems covering ground on the wings, both when defending and attacking. 
To deal with this, Simeone tried a different solution in the friendly match against Real Madrid. Out of possession, Simeone had Félix positioned on the right wing of the team's 4-4-2 defensive block. In possession, Félix would often tuck inside and play behind Morata and Costa, just like he would in the midfield diamond setup. This solution demands more of Félix on the tactical level, since his positioning will be key to Atlético's defensive and offensive transitions. If he fails to track back properly, this would expose Atlético's right wing to counterattacks.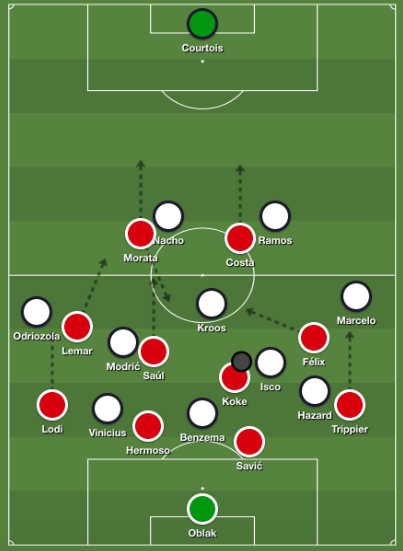 Atlético in an attacking transition against Real Madrid. As Real Madrid midfielders try to press aggressively, Felix tucks inside to go behind Isco's back. Together, Morata (who dropped deep), Félix and Lemar, lead Atlético's counterattacks.
More goals and assists from midfield?
Another solution to lift the scoring and assisting burden from Félix is to have midfielders step up and produce more goals and assists. To achieve this, Atlético might require Koke and Saúl to take more offensive midfield roles.
Koke, for example, was a player who often produced ten to fifteen goals and assists per league season for Atlético between 2013 and 2017, but in the last two seasons, his output has decreased. This most likely reflects his team's systemic issues in the offense and Simeone's decision to field him in increasingly deeper midfield roles.
Saúl is a box-to-box midfielder who is excellent at running into the box and getting into scoring positions, but Simeone insists on using him in deeper midfield roles, too, as part of Atlético's central midfield duo. This more defensive role limits his opportunities to make aggressive runs forward.
These issues make Hector Herrera a vital signing for Atlético. Herrera is a midfield workhorse, who has consistently produced five to six goals and assists per league season in Portugal even when playing from a double pivot. And with Herrera playing in the double pivot alongside Llorente, Saúl and Koke can take the more advanced midfield roles which allow them to produce more goals and assists.
Takeaways
Atlético has made a massive bet with the signing of João Félix, hoping that he will turn into a generational forward who can lead Atlético's offense for the next few years. However, the young Félix will most likely not match Griezmann's offensive output in the next couple of seasons, so Simeone and his staff must create an offensive system that does not depend as heavily on a single individual as it did with Griezmann.
Every player who aims to become the best of his generation must face "make-or-break" scenarios: being entrusted with the responsibility of carrying his team and delivering results. Diamonds are created under pressure, after all. 
Félix will have to endure this test at some point, but if Atlético want to make the best out of their huge investment, perhaps they should first buy Félix some time to further develop as a player before thrusting him into such trials. Giving Félix too many responsibilities before he is ready will mostly likely lead to disappointment on all fronts: results, fans, media and the player himself. 
Simeone and his staff know this, which is why they are trying to implement new tactical solutions to avoid depending heavily on Félix and thus buy him more time to reach his full potential.