Manchester United – Burnley: McTominay Masterclass Gives Rangnick's Red Devils Boost (3-1)
Manchester United delivered an emphatic victory over Burnley at Old Trafford, with Scott McTominay scoring the opener and setting up Cristiano Ronaldo for the third goal. However, all is not rosy yet – Burnley created a number of chances, especially down the flanks, and the fullback positions continue to be of concern for United.
Tactical analysis and match report by
Harshal Patel
. 
Ralf Rangnick's appointment at United has certainly been a breath of fresh air. The German has tried to modernize the playing style at the club, playing with a faster and more vertical approach, allied with better pressing. He has also consistently used his trademark 4-2-2-2 shape, which has benefited some players and disadvantaged others. 
One repeated concern has been United's lack of control under him – it seems as though they are too frantic at times, with the players guilty of giving the ball away far too often. Another issue has been at fullback. Given how narrow the attacking midfielders stay in this system, the fullbacks are the primary sources of width. However, United's collection have failed to impress so far, with the notable exception of Diogo Dalot, who seems to have pushed Aaron Wan-Bissaka to the fringes. All of these issues would come under the spotlight at Old Trafford, as Burnley visited for the final game of 2021.
United brought in Eric Bailly to partner Harry Maguire at the back, whist Luke Shaw and Aaron Wan-Bissaka returned to the fullback positions. Nemanja Matić played in midfield alongside Scott McTominay, with Jadon Sancho and Mason Greenwood ahead of them. Finally, the veteran pair of Edinson Cavani and Cristiano Ronaldo led the line.
As for Burnley, the pandemic has wreaked havoc with their schedule. They had not played any football for 18 days before this game, and have as many as four games in hand on some teams in the table. Sean Dyche's primary concern will have been his side's match fitness, or lack of it, with the upcoming game against Leeds United being of much more significance than this one – purely in terms of the likelihood of points being earned.
Burnley did have injury issues as well as a few positive COVID cases, which forced Dyche's hand in terms of his lineup. Wayne Hennessey played in goal due to Nick Pope's COVID-induced absence, with Maxwel Cornet, the summer arrival who has been excellent so far, also absent. Burnley were at least able to name a strong back four, with Ben Mee, James Tarkowski, Charlie Taylor and Matt Lowton starting. Ashley Barnes and Matej Vydra also had issues, so Chris Wood was partnered by Aaron Lennon up front, with Dwight McNeil, Jóhann Berg Guðmundsson, Jack Cork and Ashley Westwood in midfield.
Rangnick's tweaks beginning to bear fruit
This Manchester United squad is definitely taking some time to adapt to their new manager's methods, particularly the formation, as well as the intensity of his style of play. Their previous match, a 1-1 draw away to Newcastle United, saw the German change the shape from a 4-2-2-2 formation to a 4-1-3-2 shape at half-time, and whilst United nominally lined up in their usual formation against Burnley, the same tweaks were visible here as well.
Manchester United's attacking shape.
Matić would stay much deeper, almost becoming a third center-back, which gave McTominay the freedom to burst forward and attack the box. This was perhaps his best display under Rangnick – he scored the opening goal from just outside the penalty area, and almost repeated the trick later with a thunderous effort that Hennessey could only tip onto the bar, with Ronaldo pouncing on the rebound. 
McTominay's natural physical traits make this sort of box-to-box role perfect for him, and they also allow for his deficiencies in possession, especially in the buildup, to be masked.
Another impressive performer who should be in the lineup for most games was Luke Shaw. The Brazilian left back Alex Telles had been preferred to Shaw in recent weeks, but the Englishman showed just why he is still one of the best left backs in England. With the emphasis that Rangnick's system places on the fullbacks for width and ball progression, Shaw was a huge part of United's attacking thrust in this game. He was excellent on the overlap, When a wide player, most of the times a wing-back, runs outside to fill in the space left by a winger going inside with or without the ball, this is called overlapping. linked well with Sancho, and provided some fantastic passes, the best of which was a superb ball in the sixth minute that Ronaldo should have scored from.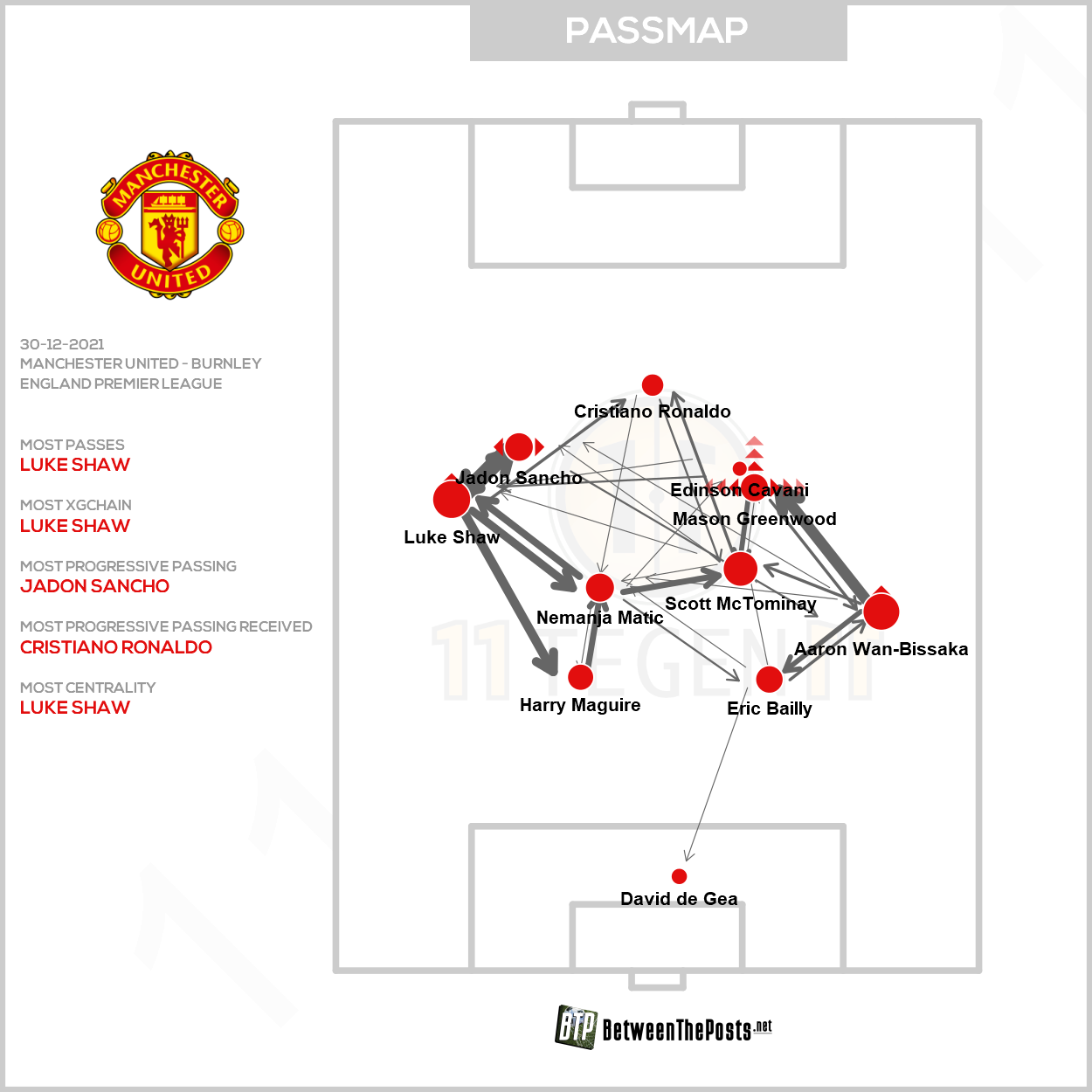 Burnley almost capitalize on United's errors
However, United are still not fully up to speed with Rangnick's demands, and this has meant that there have been quite a few shaky defensive displays thus far. Whilst they are yet to lose a game under the German, the team still looks unsure in terms of their pressing, which has often allowed the opposition chances to score. Burnley could have created and scored more chances than they did after United lost the ball, , and the majority of their chances came from counterattacks.
Eric Bailly and Aaron Wan-Bissaka were probably the biggest culprits in this regard. Bailly theoretically seemed to be a good fit for Rangnick, with his aggressive style of defending. However, the Ivorian has always had a tendency to make mistakes, and this was on full display at Old Trafford. He intercepted a pass from Jack Cork meant for Chris Wood, but then went in aggressively for the loose ball, allowing Aaron Lennon to skip past him quite easily to score Burnley's goal. It is this inability to cut out costly errors that are likely to bring an end to his Old Trafford career sooner rather than later, especially with Raphaël Varane and Victor Lindelöf available as alternatives.
Wan-Bissaka is the other United defender who looks extremely vulnerable at the moment. He has always been a superb defender in one-on-one situations, but has failed to improve his positional sense as well as his ability on the ball. Wan-Bissaka has had a constant weakness with regard to his perception of threats behind his back, which has led to United conceding chances and goals quite frequently at the back post, when the ball is crossed from the opposite flank. 
This was the case in this game as well, where Wood had a brilliant headed opportunity as early as the third minute. He had managed to get in behind Wan-Bissaka at the far post and had a free header as a result.
In addition to his positional woes, Wan-Bissaka remains quite poor on the ball for a fullback at a top club, and especially for one in Rangnick's system. It was quite a contrast to see how Shaw was able to progress the ball effectively on the opposite flank, whilst Wan-Bissaka struggled in this regard. Diogo Dalot has been very impressive at right back under Rangnick, and this display confirmed that it is the Portuguese who should be United's starting right back at the moment. Despite Wan-Bissaka being an expensive investment, it would not be a surprise to see United look for an upgrade in the summer window.
Takeaways
This was United's most convincing win under Rangnick, and their display, especially in the first half, showed that he is beginning to have an impact. However, concerns remain with regard to their lack of control, as well as defensive weaknesses. The fullback conundrum seems to have been solved, however, with Shaw and Dalot likely to be the starting pair going forward. With a fairly sedate run of fixtures in the next couple of months, this represents a great chance for United to make up ground in the top-four race.
Sean Dyche will be frustrated by this result, as Burnley created a fair number of chances which they failed to take. Their lack of match fitness and rhythm was obvious, and Dyche's task is to now ensure that his squad is ready to take advantage of their games in hand over the rest of their rivals.
We decided to make this article free to read. If you want to support our work, consider taking a subscription.
Use the arrows to scroll through all available match plots. Click to enlarge.
Check the match plots page for plots of other matches.