Schalke 04 – Bayern Munich: Domineering Bayern Push Past Poor Schalke (0-3)
Structural incompetence in defense and divine striking of the football defined Schalke 04's fixture against reigning champions Bayern Munich. David Wagner's second game in charge suggested he has no chance against top teams, whilst Niko Kovač's tactical tweak in shape allowed Bayern to look dangerous and flexible once again.
Tactical analysis and match report by Tom Quartly. 
Saturday evening saw the Bundesliga action swiftly directed towards the North Rhine-Westphalia region, where Schalke 04 held host to a determined and reinvigorated Bayern Munich. The newly appointed David Wagner was a cause for intrigue as the former Huddersfield boss prepared to take charge in his second Bundesliga fixture, the first being a draw away against Borussia Mönchengladbach.
Bayern Munich looks to be an interesting watch this season. Manager Niko Kovač had strengthened his ageing side, with Arjen Robben and Franck Ribéry making way for an influx of youth. Getting Lucas Hernández, Benjamin Pavard and Mickaël Cuisance on the roster can be seen as great business, yet it was another compelling transfer development that had the visiting fans at the Veltins-Arena excited. The arrival of Philippe Coutinho, who started on the bench Saturday night, is a fine acquisition, as the Brazilian attempts to reignite his career. Where to fit Coutinho in is an intriguing question, however. 
Kovač's tactical tweak earns Bayern early domination
The game began as expected: Bayern was dominating. However, there was a drastic alteration in Kovač's method of buildup play. Showing as a 4-3-3 formation on paper, in possession, Bayern were closer to a 3-2-4-1 shape. David Alaba operated as a 'false' fullback, joining Joshua Kimmich in a holding midfield role.
This allowed Corentin Tolisso and Thomas Müller to have greater freedom forward. It was a good sign that Kovač has tried to utilize Müller in his peculiar raumdeuter A 'raumdeuter' translates to 'space investigator'. Specifically created for Müller, the job essentially is a half-winger, half attacking-midfielder who uses spaces in midfield to create openings for himself and others.   role. Müller, in recent years, has become a limited resource in mainstream tactical systems, often elected to play as a striker or as an out and out wide midfielder. The change in buildup shape might be to put Müller in a position to succeed.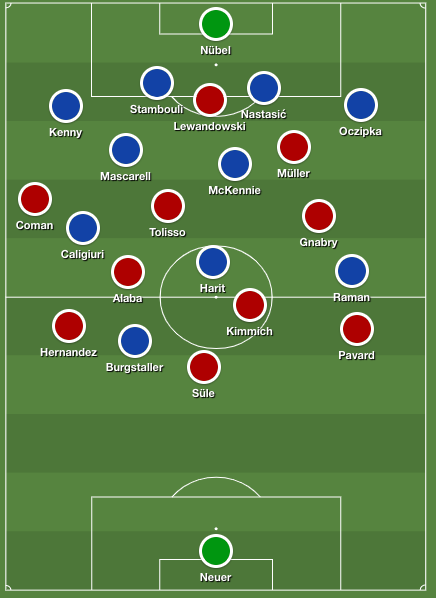 Plenty of options in the midfield as Bayern overloaded central areas.
Bit of a harsh situation on Schalke, as Bayern have a considerably better squad than the rest of the league, however tactically, you know what you're up against. A 4-2-3-1 shape that focuses on wing play. Well, not this time around…
After completely dominating the opening phase, Lewandowski scored his 131st goal for Bayern Munich. After Kingsley Coman was tripped in the penalty area, it was up to the Polish forward to convert. He did comfortably. Bayern were on top, owning 70% of possession by the twenty minute mark. Schalke's poor retention of possession did not help, as they were counterpressed After losing possession, a team immediately moves towards the ball as a unit to regain possession, or at least slow down the pace of the counterattack. off the pitch at times. 
Misguided Schalke sunk by Lewandowski
David Wagner had brought his method of zonal pressing and a defend-first mentality to Westphalia. Although they looked relatively sturdy without the ball, they looked, quite frankly, useless with it. An inefficient structure in the counterattack sparked memories of Huddersfield's horror season. Slightly more skilled players, but the same methods was a major negative to take from the first half. Guido Burgstaller, Amine Harit and Benito Raman were the forward operators in Wagner's 4-3-3 shape, but they were starved of options whenever they managed to get a foot on the ball. 
Young American Weston McKennie was tasked with holding the fort alongside Omar Mascarell at the base of Schalke's midfield. His superb line-breaking against Bayern's high press was a breath of fresh air, however, a lack of creativity in midfield, characterized by the unbalanced nature of partners Mascarell and Daniel Caligiuri, made it almost impossible to progress the ball. Caligiuri in particular found it hard to adapt due to his natural reliance on wide spaces, making it tricky to hold down a solid three man midfield.
Schalke gave Lewandowski another chance at scoring – bad idea – and they found themselves 2-0 down; Alexander Nübel did not stand a chance. A free-kick from around 25 yards out nestled in the top corner with ease. Kovač and Bayern hadn't done anything special, just overloading the halfspaces If you divide the field in five vertical lanes, the halfspaces are the lanes that are not on the wing and not in the center. Because there is no touchline like on the wing, players have the freedom to go everywhere. But this zone often is not as well-defended as the very center. This makes it a very valuable offensive zone to play in and a lot of chances are created by passes or dribbles from the halfspace. with Tolisso, Müller and Gnabry, exploiting Schalke's structural incompetence.
The problem was clearly in Wagner's zonal pressing system: Bayern Munich found it way too easy to push and pull players out of their natural positions, creating space for their many attacking midfielders to pick up the ball in potentially threatening positions. Almost all the blame has to be handed to Wagner. 
This method was simply inefficient and perhaps re-emphasizes his weakness when managing against sides significantly superior to his own; his Huddersfield team conceded 29 goals in 8 games against the Premier League top four last season, losing in all of them. Nevertheless, both of Bayern's goals had come from dead-ball situations and this makes this game so interesting to analyze. 
Thanks to the lateral way Bayern had dealt with the ball, Lewandowski had barely been in the game, but his third goal was the epitome of what he was all about. A driving run from Coman had caught Schalke's defense on the counterattack. A driven pass into Lewandowski, a perfectly weighted first touch around substitute Salif Sané, followed by a powerful low shot, beating Nübel brilliantly. It was 3-0 and the game was all tied up. An intriguing result in the opening chapter of the Bundesliga season.
Takeaways
It will be interesting to see how Schalke would manage with and without the ball against lesser sides. Going from the Championship to the Premier League meant Wagner never got the chance to set his team up to dominate a game; managing Schalke in the sometimes polarising Bundesliga will almost certainly present this opportunity.
It's hard to put your finger on Bayern Munich at the moment. They were clearly superior to Schalke but they had lost their usually so clinical final ball. In the end, they had to rely on the sheer genius of Robert Lewandowski. As for substitutes, Coutinho came on and enjoyed a few clever touches, whilst Ivan Perišić also made his debut from the bench. Bayern's substitutes were now a healthy blend of youth and experience that could be relied on to change the game; a positive if they were to keep up with the effervescent Borussia Dortmund.
Use the arrows to scroll through all available match plots.