Everton – Manchester City: Foden Pulls Out The Points From Limp Display (0-1)
Manchester City might be etched more closely to beautiful football than most, but even they have to turn to scraps when they are forced to. A resounding Everton defensive display had kept an awkward City restricted, but give a Pep Guardiola team control and you will be punished.
Tactical analysis and match report by Joel Parker. 
The Premier League's late kick-off drew two teams in desperate need of three points, for completely different reasons.
Everton have flirted with the drop zone before within the Fahrad Moshiri era but had always recovered come to the halfway point. On the dawn of March, the threat of relegation has never been bigger, aggravated by the disastrous reign of Rafa Benítez. A turn towards Frank Lampard has arrived at a weird time, a coach more determined for play to flow between the lines and find forwards centrally, with a lot more freedom.
Whether Lampard has the time and pedigree to turn the wheel is unknown, but he could draw inspiration on Tottenham Hotspur's performance against the league leaders last weekend. Nevertheless, a bruised City team had lost their mileage, with Liverpool breathing down their necks – a title race we have seen before, but a ride which never fails to disappoint. Guardiola would surely prefer to get this concluded sooner, rather than later.
Man City's only change was in the backline, as John Stones replaced Kyle Walker, from the team that lost to Tottenham last week. Both Jack Grealish and Gabriel Jesus returned from minor injuries, but both could only make the bench.
Lampard had experimented with the 3-4-3 formation in his first few games, but more defensive displays required Everton to move back to the 4-4-2 shape. He would change again, this time into a three-man midfield, with an unfit Dominic Calvert-Lewin being swapped for Abdoulaye Doucouré who came back from injury.
 Strong barricades or weak offensive?
When there is a buck in the trend, one must consider whether it was down to the opposition block or the personnel selected to get the job done. Everton's expected goals conceded are not as disastrous as one would assume (they ranked twelfth in the Premier League before the weekend), but their performances this season haven't aligned with defensive solidarity.
Lampard switched to a 4-3-3/4-5-1 formation, which had moments of aggressive higher pressure, but mostly sat as a compact medium block. This did not only vary between the positions of the wingers, Anthony Gordon and Alex Iwobi, but also the positions of two very reactive midfielders, Allan and Doucouré, who are not opposed to darting out of the midfield line to engage higher up the field.
For obvious reasons, Pep's team enjoyed the bulk of the ball, but this was far from the flexible shuffle of the pack and passing precision that we often expect when they rock up. City was set-up in a conservative 2-3-5/2-3-2-3 formation, which started with Bernardo Silva as the central presence but often saw rotation between Phil Foden, Kevin de Bruyne and eventually Raheem Sterling towards the end of the first half.
12th minute: Everton's 4-3-3/4-5-1 medium block versus Man City's 2-3-5/4-1-5 formation, lots of central coverage from Everton – most noticeably, van de Beek man-marking De Bruyne – forced Dias to move the ball back towards the left.
Though against the full City arsenal, Everton was successful sitting in the medium block, throughout the first period. This was due to the three central midfielders being able to offer each other a lot of coverage on City's inside attackers. The more notable of these matchups was Donny van de Beek's man-marking of De Bruyne, who sat deeper than Allan and Doucouré on their respected markers. The Dutchman often sat on the left shoulder of De Bruyne, which stopped the City midfielder from being able to drive the ball back inside, as well as track his movements on that side of the field, even seeing him drop into the defensive line on occasions.
Both Iwobi and Gordon dropped deeper to assist the fullbacks once City had entered the final third, but Pep's team were stalling without the usual patterns and profiles in place. City attacks haven't relied upon overlaps or overloading from their fullbacks down the channels, but Guardiola often moves his pieces before it becomes a notable problem and the league leaders had very few creative routes once the ball was moved down the flanks.
There were occasions when City had provided Seamus Coleman and Jonjoe Kenny with a conundrum, by creating a numerical overload in the attack. Sterling threatened Coleman with a run in behind just four minutes in, whilst Foden had a cutback cutout by Keane, after beating Kenny. On both of these opportunities, Pep's team had a midfielder inside, which delayed the fullbacks from reacting to the threat out wide, just enough to get in behind of them.
As well as conservative fullbacks, the wingers at their disposal were ultimately geared to taking the ball inside rather than holding the width to stretch the defense. This ultimately led to Foden moving onto the left side of the field, with Silva on the right, but this didn't deliver the desired impact that the rotation aimed to do. Everton's 4-5-1 set-up was able to stop Guardiola's team from enjoying central areas, but City's personnel did not help matters.
 Everton's empty offerings
Under his short tenure, Frank Lampard has encouraged Everton to conduct shorter passing play, especially around the backline. What was deemed unthinkable under the Benítez blueprint has been promoted under the new coach, but the execution is what would truly separate the successful and unsuccessful managers.
That being said, Everton continued to exchange around the back, but with little effect. As the ball funnelled towards the fullbacks, the wingers remained quite narrow, whilst passing lanes towards the midfielders were easily cut off by the City wingers, pressing in their usual 4-2-3-1 formation.
Their better phases came in semi transitional moments, which could arrive from İlkay Gündoğan being dragged out of position and Rodri left isolated in the middle of the field, or City losing the ball and not in a position for their attackers to counterpress. However, Everton would not utilize these moments as they had no runners or carriers to keep the tempo of the moves afloat. As well as poorly implemented transitions, the second phase from such moves generated very little too, as Everton consistently reverted to a very flat 4-3-3 formation.
25th minute: Poorly executed Everton counter, after Gordon dispossessed Stones, gave the ball to Richarlison and continued his run. Richarlison moved laterally, whilst Doucouré failed to drive the ball forward and pass the ball further outwards (Black ball, second pass.) Everton lost so much space and ground by wasting valuable seconds.
As a result, Richarlison being fouled was the common route to get the ball forward, or the striker running onto longer passes from his fellow Brazilian, Allan. Everton had genuine phases on the ball, around the half-hour mark, that appeared to cause their opponents a few issues down their right side. Kenny slipped through on the outside of Stones, as he met Allan's lateral run and pass from the opposite side, whilst Richarlison had the best attempt of the half during a messy period of play, but his shot could only be directed straight at Ederson.
 City squeeze until Everton cracks
The key for the Everton lock was found once Man City had gained further control and had thoroughly kept their opponents in their half. Whereas the first period had brief spells of transitions and buildup from Lampard's team, the second saw them reduced to no more than a low block.
Guardiola didn't change any of his personnel going into the second period, but didn't need to as classic halfspace runs from City eights took centerstage to allow more vertical runs or passes from the visitors. This caused a lot of disruption as Everton lost coordination between their midfielders. Now Coleman and Kenny were engaging with the City fullbacks, this meant that Iwobi or Gordon could be dragged into the defensive line and a central midfielder would have to push up against City's three-man combinations.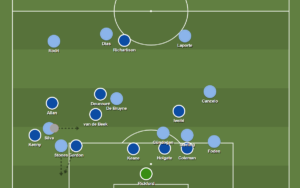 53rd minute: Foden chance. Example of Everton block starting to break. Having received the ball, back on the touchline, Silva was able to drive the ball infield, thanks to space opening by Stones' halfspace run. This took out Gordon and van de Beek was forced to cover the zone, rather than interact with Silva's infield carry. Notice the distorted positions of Everton's midfielders.
The visitors hadn't reached their Pep-fluency, but at least they had started to generate a lot more dangerous shots, thanks to the center being opened up. Foden would have the first attempt, who received on the far side once again, but this time reversed with Silva carrying on the right and Foden's shot being saved, space created by Sterling, who pinned Coleman in a more central position of the field.
With Everton being constantly drawn out towards the channel, a quick connection through the halfspace could gain entry into excellent positions for City to exploit. This was highlighted on the 67th minute, as De Bruyne combined with Sterling and Gündoğan, meeting them with an excellent third man run. This drew six Everton players towards the right and would open up space on the D of the box to shoot. An excellent double save from Pickford denied De Bruyne and Silva on the rebound.
The hosts' defensive output was hampered by Donny van de Beek being forced off due to injury with twenty minutes left, replaced by Dele Alli. Nevertheless, City had cranked into new gears and was rewarded, assisted by calamitous defending from Everton's center-backs. Both Mason Holgate and Michael Keane got touches on the ball before Foden finished from very close range.
As we've seen on so many occasions, when City have a narrow lead, the opposition team tires themselves out as City compress play in a very effective 4-4-2/4-4-1-1 medium block, whilst Guardiola's team can also run the ball through their usual circuit to kill games too. Everton was denied a penalty late on, with a very dodgy handball from Rodri being ruled as accidental from VAR, but just two shots from the hosts in the second half highlighted an Everton attack that had failed to build on potential routes seen in the first.
 Takeaways
Man City had done enough to secure the win, but the result is a bitter pill to swallow on an encouraging Everton performance in desperate times. Lampard's team are yet to drop into the bottom three but need to take elements of this performance onto their travels, especially with massive games against fellow strugglers on the horizon.
Guardiola's team were far from their perfect best, but after defeat last week, it is a major three points, to create separation from Liverpool. Having faced Spurs in their previous home fixture, their next Etihad kryptonite awaits, as Man United take a trip to a place where they haven't since 2018.
We decided to make this article free to read. If you want to support our work, consider taking a subscription.
Use the arrows to scroll through all available match plots. Click to enlarge.
Check the match plots page for plots of other matches.