Juventus – Napoli: Juventus assert superiority after falling behind (3-1)
Following a promising high-pressing start from Napoli that gave the visitors an early lead, Juventus, asserted their superiority and ran away with the Serie A lead. Even though he did not score, Cristiano Ronaldo played his best game so far for Juve.
Seven is the number of the moment for Juventus. They won the last seven Serie A titles. They just signed a pretty famous number seven. And they have won the first seven games of this season.
This season is all about winning the Champions League as Juventus invested heavily to assemble an incredible squad, but here, they were facing their main opponents on the domestic front. Napoli had won five in six in Serie A, with some tough fixtures, and had ambitions to show they were serious contenders for the scudetto.
We have seen Juventus play in several different ways this season, with Massimiliano Allegri showing great flexibility and using the potential of his squad to the fullest, so predicting how the hosts would line up was a tough task. Allegri opted for a 4-3-3 with Wojciech Szczęsny, Emre Can, Alex Sandro, Mario Mandžukić and Giorgio Chiellini returning to the side. Sami Khedira, Mattia De Sciglio and Leonardo Spinazzola remained injured, while Douglas Costa was still suspended for his antics against Sassuolo.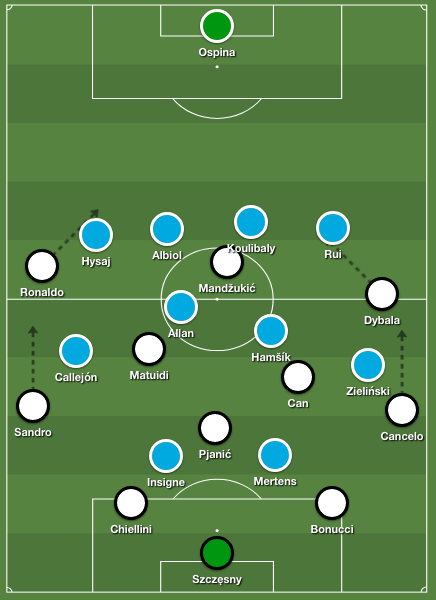 Juventus building from the back. Napoli started the game pressing high in a high block.

Carlo Ancelotti stayed faithful to his recent switch to a 4-4-2. Ancelotti is a 'system adapted to players' rather than a 'players adapted to system' kind of manager, and usually takes advantage of his predecessor's good work instead of making revolutions.
With the departure of Jorginho, however, Ancelotti believes the 4-4-2 suits this group of players better. Especially Lorenzo Insigne, who, never shy to take a shot, can now do so from more central positions. Several players returned to the side after being rested against Parma.
Napoli building up.

Passive start by Juventus, Napoli take control
Juventus started the game patiently and seemingly content in allowing Napoli to have more of the ball. Juve were eyeing an opportunity for a dangerous counter, but looked a bit too casual in their approach in the first ten minutes.
Napoli attempted to press high, with Insigne and Mertens pressuring Juventus' center-backs. More than an aggressive press to try to win the ball back high up the pitch, the objective seemed simply to reduce the time for decision-making while covering the passing lane to deep-lying playmaker Miralem Pjanić, hoping for mistakes.
Preventing the ball from getting to the Bosnian was not always possible, but the mistake did come. With the Juventus defense under pressure, Leonardo Bonucci on the right flank attempted a ridiculous pass towards Paulo Dybala that reached Allan instead. With the Juventus defense unbalanced, it was too easy for Allan to launch Callejón in the box who selflessly served Mertens for the opening goal after ten minutes were played.

Juventus grow and in doing so, become unmarkable
It took some time for Juventus to settle in the game. But once they did, it was hard to stop them. There is not much that Napoli did terribly wrong on the tactical front. Juventus are just a lot better.
No matter what your team shape is, you are going to leave space open somewhere and Juventus can hurt you from everywhere. There are certain players you can not allow to leave one against one, Juventus have several of those in the same team, and doubling up on one player means giving freedom to another who is just as dangerous.
With "fake winger" Piotr Zieliński and Callejón having to deal with offensive full backs João Cancelo and Alex Sandro, Juventus' midfield trio had superiority in numbers in the middle against Allan and Hamšík, while Dybala, Cristiano Ronaldo and Mandžukić all dropped and looked for space between the lines. The dynamism between the front five, with Cancelo and Alex Sandro wide and Pjanić pulling the strings behind them meant Juventus always found a free man and could create one against one situations.
There was little Napoli could do. If Allan or Hamšík pressured Pjanić one of Can or Matuidi would be free. If Zieliński aided in the middle, Cancelo would create an overload or force Koulibaly to the wing further stretching the defense. Insigne directly marking Pjanić would perhaps be the best option, and it is perhaps odd it was not done, but Napoli would then partly lose their pressing ability that worked so well in the beginning of the game.
The initial strategy to press high made perfect sense, but how easily Juventus shook Napoli off is both a testament to their quality and, quite possibly, a result of Napoli players fearing Juventus too much as soon as they started to create danger.
The equalizer was born from one such situation, with Ronaldo beating Hysaj a bit too easily to deliver a cross for Mandžukić to head home in the 26th minute. Kalidou Koulibaly and Raúl Albiol inexplicably both followed Can to the near post while the Croat, the real aerial threat, seemed to know exactly where the ball was going and easily beat Mário Rui in the air.
The second half could not have started worse for Napoli as Juventus took the lead within four minutes of the second kick-off. Dybala made a phenomenal run from Juventus' half to the final third, the ball found Ronaldo who took a powerful shot that Ospina could only parry into the feet of the oncoming Mandžukić, who put the home team ahead with his second goal of the day.
Juventus in almost complete control
The sending off of Mário Rui, receiving his second booking in the 58th minute for a strong challenge on Dybala, felt like game over. Right-back Kévin Malcuit and striker Arkadiusz Milik were brought on for Zielinski and Mertens, with Hysaj switching to the left side of defense.
Oddly, Juventus seemed to feel the game was over a bit too much and looked to switch off. In the 72nd minute, Albiol found a great line breaking pass to Insigne who flicked cleverly towards Milik. As Bonucci had come out to pressure Insigne, Chiellini was drawn to the Polish striker, who launched Callejón with space for the chance Napoli were waiting for, but Wojciech Szczęsny denied the Spaniard.
This seemed to wake up Juventus. Five minutes later, Juve did kill the game from a corner kick. Ronaldo jumped at the near post and headed the ball towards the far post where Bonucci redeemed himself and made the 3-1.
Juventus cruised in the final fifteen minutes, with the only player still trying hard being Cristiano Ronaldo. Despite a hat-trick of assists, he looked desperate for a goal of his own and Juventus switched to a 4-1-4-1 with Ronaldo as the striker to try and help him, but it was not meant to be. The Italian and international press will probably highlight another goalless game, but in all fairness, this was probably his best performance since moving to Turin.
Takeaways
The main thing to take away from this game is by how far Juventus are the best team in Serie A. By very far indeed. In Napoli, Juve probably played against the second-best team in Italy on Saturday – and the gap in quality was still huge. Juventus' main opponents were Juventus themselves. Their shaky start and the brief period following Mário Rui's sending off were the only times when Napoli threatened. At their best, no one in Italy can compete with Juventus. The question is, how far can they go in the Champions League?