Belgium – Italy: Tasteful Italians Build Roads Through the Halfspaces (1-2)
Belgium were handed their wake up call after it was too late. Issues in the middle of their 5-2-3 shape were exploited by the Italians, who attacked with fluency and panache, from out wide to inside. The renaissance under Roberto Mancini continued in inevitable style, as the semi-finals now beckon.   
Tactical analysis and match report by Joel Parker. 
When both Roberto's last met in the 2013 FA Cup final, they were two managers on separate ends of the spectrum. Martínez's relegated Wigan team shocked Mancini's Manchester City to grab the cup, but even when the playing field is more similar, differences can be identified between both managers.
Belgium reached the quarter-finals by knocking out the holders Portugal, but it was far from a comfortable experience. They continued to look unbalanced in the build, while surviving the second half due to Portugal's poor shot creation, rather than defensive control.
Mancini has deployed the most flexible of positional play structures in the tournament, one which was pushed to the limit by Austria. The Italians have excited and illuminated EURO 2020 with their offensive capabilities, but issues within the press are yet to be exploited – the cavalry that Belgium possessed would surely be a stern test.
Eden Hazard missed out with a thigh problem, but Kevin de Bruyne was deemed fit to start as Belgium made a single change from the Portugal game. This involved Jeremy Doku starting as part of the front three.
Italy made two changes from their victory over Austria last weekend. Captain Giorgio Chiellini returned to the backline to replace Francesco Acerbi, while Federico Chiesa came in for Domenico Berardi on the right-wing.
Halfspace dominance
What defined success, within Italy's approach in possession, was their high success rate in moving the ball into the halfspaces If you divide the field in five vertical lanes, the halfspaces are the lanes that are not on the wing and not in the center. Because there is no touchline like on the wing, players have the freedom to go everywhere. But this zone often is not as well-defended as the very center. This makes it a very valuable offensive zone to play in and a lot of chances are created by passes or dribbles from the halfspace. and in positions where they could truly hurt Belgium. As we have seen throughout the tournament, the Italian buildup structure varies and adapts between phases, mostly in the 3-3-4 / 3-2-5 shapes.
Against Belgium's 5-2-3 defensive block, the overload When one team has more players in a certain area or zone than the other team. in the second line enabled Italy to bypass the front three very comfortably. Doku, Romelu Lukaku and De Bruyne, who remained in the center, rarely pressed aggressively, while Belgian wing-backs were not engaged higher up the field. This led to Italian fullbacks and wide midfielders to receive the ball and turn with plenty of time to pick the next pass forward.
It's been a playground so far for #ITA pic.twitter.com/r45PyxHI7i

— Between The Posts 🌈 (@BetweenThePosts) July 2, 2021
Down the left, with Leonardo Spinazzola pinning Thomas Meunier in the defensive line, this led to Youri Tielemans pressing down the channels to deal with receivers. Belgium's bad staggering out of possession led to space being massively open around him, where Marco Verratti and Lorenzo Insigne enjoyed total passing freedom. As two-versus-one and three-versus-two overloads were so accessible, Mancini's team were able to keep the ball in the midfield for long periods, while Jorginho and Ciro Immobile were able to aid when Belgium's shape tilted and more bodies were committed.
As Giovanni Di Lorenzo remained deep in the build, Nicolò Barella's vertical runs out wide dragged Axel Witsel out of his central position, which gave Federico Chiesa the space to receive between wing-back and center-back.
20th minute: Up-back-and-through combination used for Insigne chance. After Di Lorenzo found Immobile in a pocket of space, his pass back to Verratti (Grey ball) opens up the progressive option in Insigne (Black ball), who drops to collect and carries the ball into the area.
In possession, Insigne was able to move into the ten space, inside of Tielemans and constantly sat in his blindside, If a defender looks one way, an attacker can try to make a run behind the defender's back, on the side where he is not looking. This is called the blind side. which made him difficult to track. Italy were able to thread play from middle to final third The one-third of the pitch that is closest to the opposition's goal. by up-back-and-through combinations, while constantly moving the ball towards the channels and vertically back inside, around Belgium's weak defensive plan.
Italy were well worth the two goals they had scored, before half-time. The first was from smart counterpressure After losing possession, a team immediately moves towards the ball as a unit to regain possession, or at least slow down the pace of the counterattack. off a quick free-kick, Jorginho picked De Bruyne's pocket from the edge of the penalty area before he fed Barella in space. Excellent close control enabled him to slalom his way through Belgian defenders, before driving the ball into the far corner.
Their second goal showcased just how easy it was for Italy to get into good positions. After they had conceded, Belgium increased their pressing intensity without changing their positions on the field. Gianluigi Donnarumma was able to play through the first line, with a simple forward pass into Jorginho, before Barella played a vertical pass towards a two-versus-one overload on the left. Insigne had the time to manoeuvre past Tielemans before he finessed an excellent shot from distance. Belgium responded with a penalty before half-time, but the superiority had already been addressed.
Why Belgian counters didn't work
Perhaps defending more passively and exploiting Italy on the break would not be a bad game plan, if it hadn't been executed so poorly. Space was able to be created by mistimed counterpressure from the Italians, where their midfielders stepped up and forwards were able to be isolated with the center-backs.
The Belgians left Lukaku and Doku further afield out of possession, while De Bruyne dropped deepest to anchor the transition. The problem for Martínez and his transitional approaches, for almost a decade, has been reliant on a ball-carrying midfielder to do all the work, while Lukaku would fend for himself on the right.
De Bruyne got into several positions where he started to drive forward with little options ahead, a lateral pass towards a center-midfielder or wing-back would end the chance of a transition, as they were always set behind him. One of Belgium's better chances of the game came when De Bruyne was given no other option, following a missed interception, but to drive towards goal and shoot from outside of the box.
25th minute: De Bruyne was able to transition, thanks to mistimed counterpressure from Jorginho, but lack of patterns and limited support lead to a predictable counter. Lukaku takes a good shot but Belgian counterattacks were incapable of causing damage. 
Lukaku was given one opportunity from a De Bruyne carry, once the attacking midfielder skipped past Jorginho and Lukaku was afforded space by a retreating Chiellini. However, even in this scenario, Italy were able to get four defenders back as Lukaku took his shot, while Doku remained on the outside and De Bruyne on the edge of the box.
Italians handle higher press
Martínez tweaked his team's shape out of possession, as Thorgan Hazard was pushed more into the midfield line and Jan Vertonghen moved further wide to stick to Chiesa's heels. Belgium were now pressing higher up the field and with a little more intensity but continued to be badly staggered behind the double pivot. Two central midfielders next to each other.
Italy had the solutions and patterns to deal with this. A wall pass from either fullback, into Verratti/Jorginho before they passed up the field could be completed to evade pressure, or Leonardo Bonucci had the passing range to go direct to Immobile, who was always in a lot of space with his back to goal, or complete the switch to Spinazzola, in space as Meunier continued to stay deep off the ball.
51st minute: Di Lorenzo was able to make a line-splitting pass, which followed after he carried the ball from the defensive into the midfield third. Poor Belgium staggering and pressure enabled an easy pass into Barella.
A carry from deep could also put Belgium in trouble if the midfield line had to be engaged further forward. This created a lot of space between the lines for the likes of Barella or Insigne to get into and drive the ball towards the goal with a defender less in front of them.
Despite these patterns being formed, there were one or two sequences where the execution put them in a more vulnerable position. Immobile's touches were not excellent and Belgium could have gotten into better positions from these scenarios.
Count Doku dribbles but not enough
Belgium struggled to get any form of shot creation, but Jermey Doku sparked some sort of life in his team's attack. His eight completed take-ons are the highest tournament total so far, seven of which came in the second half and sparked their only notable opportunity in this time period.
Transitioning from an Italian attack, Doku received in space down the left and slotted De Bruyne through, who had made an excellent inside run. Lukaku's miscued shot, from very close range, was blocked by Spinazzola and bounced out for a corner.
Despite Doku's antics, Belgium's buildup was inept in breaking down the Italian block. They remained in their 3-4-3 system, which also resembled 3-1-5-1 / 3-1-4-2 shapes in certain exchanges, but this involved some peculiar shifts in positions from Martínez. Nacer Chadli came on for four minutes before his injury, while the addition of Dries Mertens saw De Bruyne drop as a central midifelder, before Dennis Praet took that position when he came on.
This involved Doku being moved into the left wing-back role, which had no real effect on his carrying abilities, but Belgium continued to rely on more transitional moments, rather than moments where they could pick through in the buildup. This was due to Italy's well-organized 4-5-1 medium block, A medium block refers to a team that retreats in their own half out of possession, generally only disrupting their opponents some way into their own half. which was more man-orientated up the field, but when defending deeper, Italy compacted and congested central areas to great effect. Top that with trademark time wasting and you had more of a vintage tournament look from the Italians.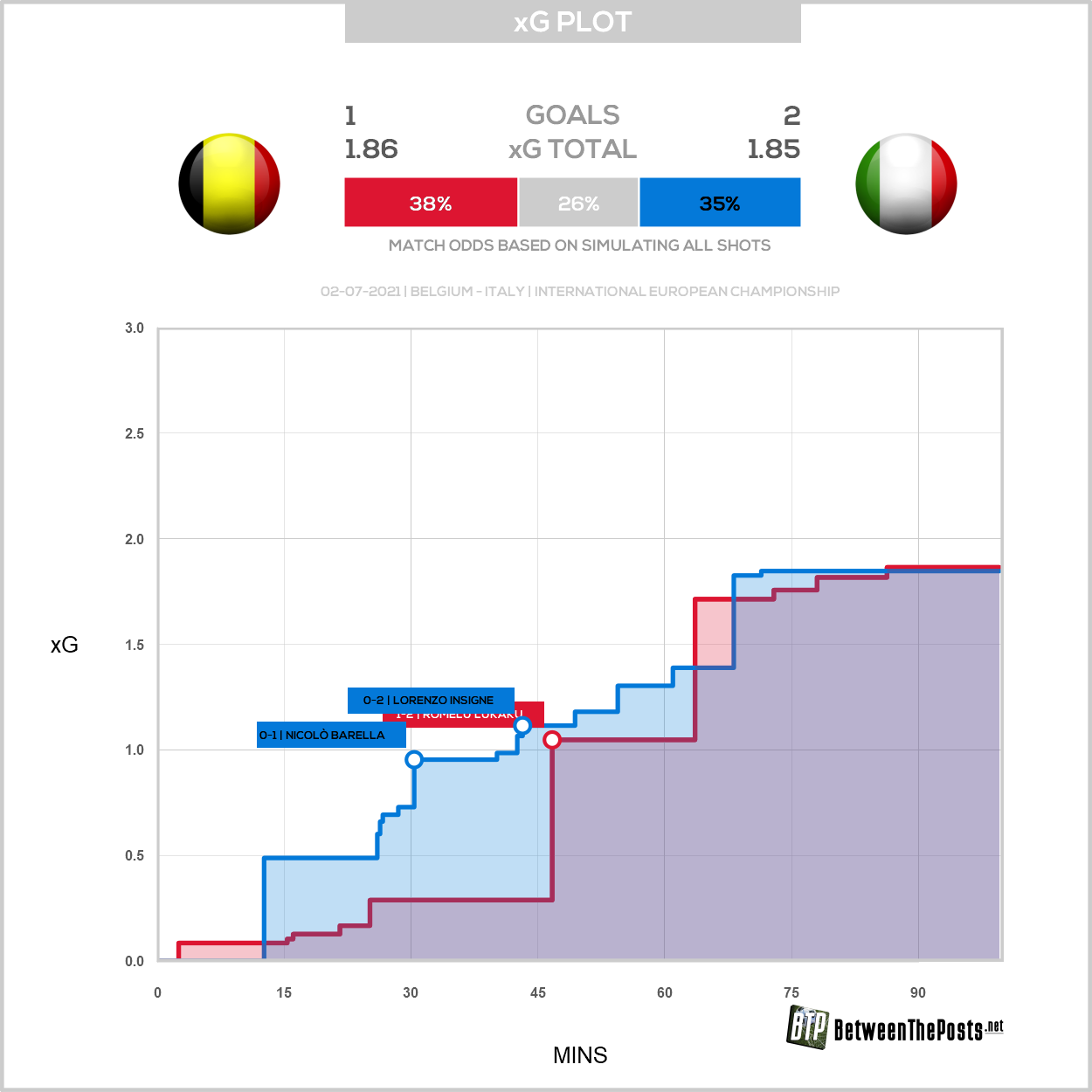 Takeaways
Belgium is out and it is no surprise to see them out in this manner. Their 5-2-3 block had been able to shut off less effective passing circuits, before EURO 2020, but up against a team like Italy and the openings on the shoulders of the midfielders were bound to happen. Martínez failed to adapt and solve such issues.
Mancini's team have earned their semi-final place by being the most complete team in the tournament so far. However, injury to Spinazzola throws a spanner in the works, as his highly advanced role played a major benefit to his team in the opposition half. Nevertheless, a showdown with Spain offers a mouth-watering and entertaining tactical affair.
We decided to make all of our EURO 2020 articles free to read. If you want to support our work, consider taking a subscription.