Between the Posts tactical analysis weekend preview: a look at the games we will cover this weekend
Welcome to the weekend primer of Between the Posts, where we preview the matches that will be covered during this weekend, including a little preview of these matches. France, Spain, England are full fledge again, so that is where we will be focusing on.

Friday, January 11th

Olympique Lyonnais – Stade de Reims (Ligue 1), 20:45 CET
The weekend kicks off with Olympique Lyon hosting Stade de Reims. The visitors have one of the most stable defenses in France and can boast the fourth lowest expected goals conceded numbers in the entire Ligue 1. They are well-organized and don't play very offensively, which will be a nice juxtaposition when they are on the same pitch as Lyon.
On this website, it has often been detailed how Lyon can be brilliant or terrible, often even in phases of the same match. One moment, you are watching Memphis Depay, Bertrand Traoré and Nabil Fekir combine through a defense like a warm knife through butter. The next moment, they have no protection for counterattacks and make sloppy mistakes at the back. Which one will it be Friday night?
Tactical analysis by Max Bergmann.

Saturday, January 12th

West Ham United – Arsenal (Premier League), 13:30 CET
In England, everybody is completely worn out after the incredibly packed November and December months, even though both West Ham and Arsenal have enjoyed a midweek breather after going through in the FA Cup last weekend.
Arsenal are only three points away from fourth-placed Chelsea, which is fairly reasonable for Unai Emery in his first season. It is not easy to say which formation exactly is Emery's favorite, simply because he has used so many already. Although Arsenal's buildup problems are still present, it's their attacking quality that pushes them through games. With the continued absence of Mesut Özil, Alex Iwobi has been a key figure, linking play down the left side. Up top, Alexandre Lacazette and Pierre-Emerick Aubameyang's blossoming strike partnership has seen the side's two prolific attackers find the net time and time again. Whatever it will be against Manuel Pellegrini's West Ham United, Saturday's early kick-off is probably worth it, as these are two open teams that are prone to counterattacks by the opposition.
Tactical analysis by Erik Elias.
Arsenal's current season, in a nutshell.
Elite offense, but conceding way too much to be a threat to the big boys.
Part of this is definitely the squad, but how much is Emery? pic.twitter.com/ZraSVam3v7

— Between The Posts (@BetweenThePosts) January 2, 2019

Brighton & Hove Albion FC – Liverpool (Premier League), 16:00 CET
This will be the first of many away games for Liverpool that can lead to their first league title since 1990. It is a bit of a cliche – which are not a staple at Between the Posts – but these are exactly the types of games that can cost you a championship if you are not careful. As a visitor of this website, you probably know a thing or two about Jürgen Klopp's dynamic side. So let's talk about Brighton.
Well… They are not world-beaters, to be fair. Sitting in thirteenth place, Chris Hughton's squad mostly plays in a low block. A defensive block is the compact group of defenders that defends a particular zone, either their own half in a medium defensive block, or the zone around their own box in a deep defensive block. That defensive setup has not been able to shut up shop, hence their fourth lowest expected goals conceded numbers in the entire league. Very defensive teams used to be Liverpool's kryptonite last season, but since the introduction of the vibrant 4-2-3-1 system this no longer seems the case, even though Liverpool are experiencing some personnel problems at the back, with Fabinho expecting to be fielded as a makeshift center-back alongside Virgil van Dijk.
Tactical analysis by Josh Manley.

Sunday, January 13th

Athletic Club – Sevilla FC (LaLiga), 16:15 CET
A repeat of the very same fixture that was played in the Copa del Rey, just three days prior. Sevilla managed to beat Athletic Club quite comfortably, the game ending in a 1-3 final score.
It's now just over a month ago that Athletic disposed of manager Eduardo Berizzo, whose time at the club was rather short-lived and disappointing. The Argentine had enjoyed some successful seasons at Celta de Vigo, before moving to Sevilla in the summer of 2017, only to be fired, in December. That cycle has now repeated itself at Athletic Club, with poor performances leading to his dismissal, again in December. Athletic promoted the manager of their 'B team', officially named Bilbao Athletic, Gaizka Garitano, and have gone unbeaten for five games. Until that recent defeat against Sevilla, that is.
Sevilla, meanwhile, are still in the mix for the top places, even though recent draws against Valencia, Leganes and Atlético now mean they have some catching up to do.
Tactical analysis by Chris Baker.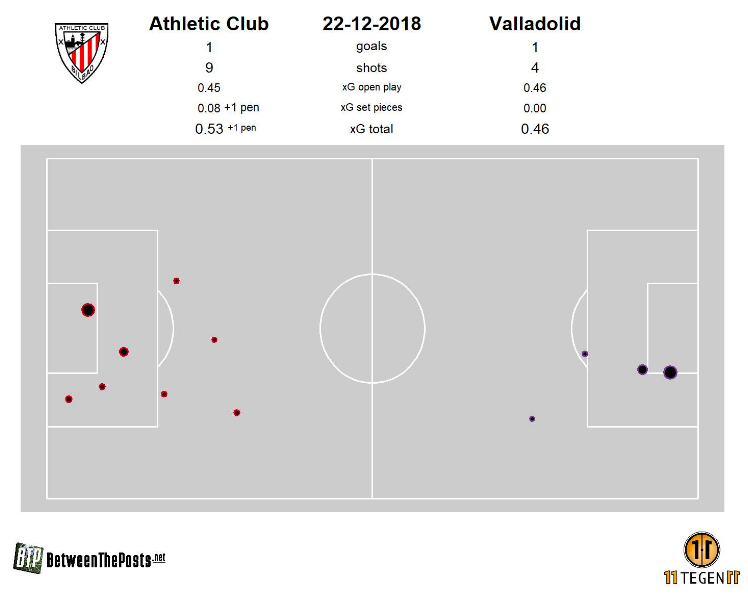 Tottenham Hotspur – Manchester United (Premier League), 17:30 CET
We're entering the second half of the season, and things are really starting to shape up now. Tottenham have a seven point cushion on Arsenal in the top four race, and look quite certain for the all-important Champions League qualification. However, with both Liverpool and Manchester City on course for 90-points-plus seasons, it's hard to see Tottenham improve on their current third place in the table. Still, they're just two points behind City, and beating United would keep the pressure on in that regard. Or would too much of a convincing Tottenham performance strengthen the rumors of a potential Pochettino move to United?
Manchester United have scored an impressive 16 goals in Solskjær's first five matches in charge. With a revitalised offense, that suddenly seems to contain a wealth of young offensive talent, they have been pleasant on the eye again. The more critical approach, however, would be to say they haven't exactly faced significant opposition in this spell. As such, this away game with Tottenham served as Solskjær's first major test.
Tactical analysis by Martyn Davis.

SD Eibar – FC Barcelona (LaLiga), 18:30 CET
Eibar is all about pressing. And by that, we mean a lot of pressing. They do it against whoever they play, wherever they play. This brave style of play results in heroic victories – over Real Madrid, for instance – but also produces games like a 4-0 loss away at Celta de Vigo or a 4-4 draw against Levante at home.
Everybody knows that if you manage to play through an opponent that presses heavily, there are enormous spaces to play in, so this game probably will be attractive anyway. Even though Valverde pulled a rabbit from his hat – deploying a 3-4-3 formation in possession with Ivan Rakitić as third central defender – the away match against Getafe was by no means an easy win. It was very much decided by clinical finishing, which is never a good sign if you are a top club.
Tactical analysis by Erik Elias.

Real Betis Sevilla – Real Madrid (LaLiga), 20:45 CET
Real Madrid are now fifth in LaLiga, as this is shaping up to be one of their worst seasons in the 21st century. It has been fourteen years ago since they did not manage to finish first or second in LaLiga. In addition, Real Madrid have now recorded as many victories as games in which they dropped points (9), which is absolutely below the standard that has been set throughout their rich history.
Under Solari, Real Madrid attempt to press the opponent higher on the pitch than under Lopetegui (who was more of a presser than Zidane).
Their opponent Real Betis Sevilla are led by passing purist Quique Setién, who insists on building out from the back with short passes. As they play with three central defenders and one or two midfielders in front of that in the build-up, Solari will have to come up with a plan to deny them access into Real Madrid's half of play. Since his plans have not worked out so far – and Betis can outplay any LaLiga opponent on their day – this might turn out to be a very spectacular match.
Tactical analysis by Om Arvind.

Olympique Marseille – AS Monaco (Ligue 1), 21:00 CET
Two powerhouses of French football meet in this Sunday night affair. Both teams have seventeen Ligue 1 titles among them, although only three of those have come in the past twenty years.
Olympique Marseille rank sixth going into this weekend, but have a game in hand that could put them on equal points with fourth placed Montpellier. A winless streak of  six matches, however, has started a slight down the table recently. Underlying stats suggest they have a big fight on their hands to keep up with PSG, Lyon and Lille. This makes a rather bleak fourth place a more realistic target at the moment.
Then AS Monaco, where to start with them!? It's too easy to simple repeat the famous statement about horses and jockeys, but it's safe to say the appointment of Thierry Henry as manager of Monaco has not worked out in terms of results on the pitch so far. They hold an alarming nineteenth place in Ligue 1, haven't won at home yet, and their open play defense is the worst in the league, in terms of expected goals. Points have got to come at some stage, or the club will pay a huge price for hiring an inexperienced manager, even by the name of Henry.
Tactical analysis by Rowdy Nossent.
Monday, January 14th
Manchester City – Wolverhampton Wanderers (Premier League), 21:00 CET
Newly promoted Wolves pay a visit to the home of the Champions, who are fresh of a record breaking one hundred points season. Or, the Premier League's third best offense from open play goes up to challenge a stuttering City, who can hardly avoid to drop points in their race to overtake league leaders Liverpool.
Although ranked just ninth in the table, Wolves have shown that they can give the top six sides a definite run for their money, taking three points off Tottenham in the busy festive period. It's very interesting to see what the return to fitness of Kevin de Bruyne will mean for City. Fitness issues and injuries have allowed the Belgian star player only a single league start so far, after being pivotal in their title winning campaign the season before.
Tactical analysis by Peter M.