Fiorentina – SSC Napoli: Lucky Getaway For Fiorentina As Napoli Fail To Score (0-0)
Fiorentina were on the receiving end of an attacking frenzy in the first half. Napoli mauled the home side thanks to Fiorentina's easy-to-beat man-marking setup that saw Lorenzo Insigne run the show in the middle of the park. The only thing Napoli did not achieve was scoring a goal, which would haunt them dearly in the second half.
Tactical analysis and match report by Peter M. 
Fiorentina's manager Stefano Pioli made a number of changes to the side that drew 1-1 against Udinese. Vincent Laurini and Nikola Milenković were replaced by David Hancko and Federico Ceccherini in defense. Gerson restored his role in attack as Kevin Mirallas overlooked this encounter from the bench, to begin with. Bryan Dabo then took the remaining open spot at right-wing-back as Pioli switched from 4-3-3 to 3-4-3.
Carlo Ancelotti made just two changes to the eleven that claimed an important bounce-back victory against UC Sampdoria last weekend. Marek Hamšík was replaced by Fabián Ruiz and Arkadiusz Milik made way for Dries Mertens up front. Ancelotti stuck to his guns system-wise, keeping to his 4-4-2.
Napoli's early intent brings them close to a perfect start
In their fluid 4-4-2, Napoli were excellent at trapping Fiorentina's midfielders when pressing. The away side were very much ball-oriented in their attempts to regain possession. Ancelotti's side intensely harried the ball down non-stop, in a way that expressed good organization. The entire midfield, excluding only the far-sided wide-midfielder, would collaborate to put pressure on Fiorentina's ball-carrier.
Against Fiorentina's 3-4-3, they would only give some leeway to the opponents' holding midfielders ,as they received short from the center-backs. However, everywhere else, Fiorentina was on lockdown. Dries Mertens and Insigne stuck tight to the nearby center-backs to prevent the ball-holder from going back and the three midfielders continuously pushed up further and further whilst leaving no gaps between one another.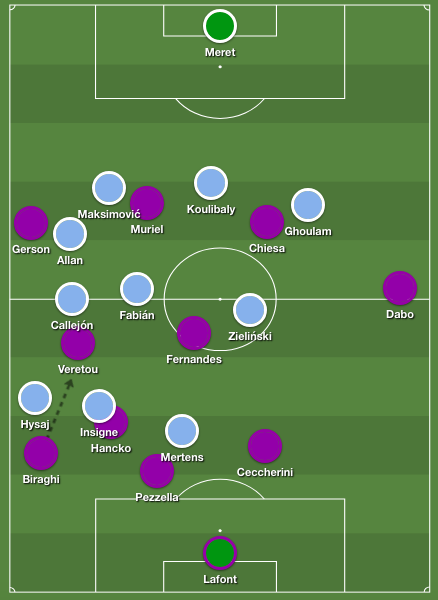 Napoli's ball-sided pressing trap.
In just the sixth minute, it nearly paid off. With the press working to perfection, José Callejón found the ball rolling back towards him on the corner of the opposition's eighteen-yard-box. He curled it towards the back, left-sided post, finding Piotr Zieliński, whose meek effort from a tight angle was kindly parried back in Insigne's direction who surprisingly, failed to convert. Possibly put off by a nearby lunging challenge, Insigne got right under the ball with his uncontrolled effort.
Another Fiorentina concern involved in that attack was the positioning of the wing-back, Dabo, on Zieliński's side. Both wing-backs, when possession had been turned over in Fiorentina's favour, were instructed to push wide but also incredibly high and very quickly. This made spaces big for Napoli to play in when the ball was lost.
The same problem continued to reoccur. One instance saw Cristiano Biraghi run away from offering a much-needed connection to the flank, leading to a loss in possession. Then, in a more dangerous turn of events, Zieliński managed to run off the back of Biraghi's run forward in transition, leading to a chance on the cutback for Mertens.
Napoli's successfully exploits the fine margins of Fiorentina's man-for-man approach
It was almost a dream to be an attacker for the away side in this match. As persistently as they tried, Pioli's men could not get close enough to Napoli's receiving attackers in time to disrupt their touch or next action. Not only that, but being in these constantly tight one-versus-one scenarios means an opposition attacker's sharp turn of pace can easily undo the pressure of the marker.
Mertens put this qualitative advantage to good use on two separate occasions. In the eleventh minute, the Belgian striker was quicker in his speed of thought by ducking around the back of his marker to latch onto a brilliant, early, sweeping delivery from substitute Faouzi Ghoulam – who came on for the injured Mario Rui. The resulting effort on the half-volley was a great opportunity but another one that went begging.
Zieliński opening in transition, thanks to midfield overload.
Ten minutes later, having drawn out center-back Ceccherini into an uncomfortably high position out wide, Mertens' sharp turn of pace against the defender opened up a route for him in behind. Expertly found by Fabián, his resulting shot-come-cross – your guess as good as mine on this one – resulted in another good chance blazed over. Callejón doing the honors this time around.
Insigne also displayed different kinds of double movements – feinting one way and darting back and forth in the opposite direction to receive the ball. However, and more importantly, he remained a constant nuisance in the middle. Insigne was often holding positions where the center-backs of Fiorentina could not touch him without moving wildly out of position. It was not uncommon to see him right off the shoulder of Jordan Veretout, thus helping to overload When one team has more players in a certain area or zone than the other team. the midfield and provide a way out. He was not the only serial moving dropper, there was Zieliński too. The Polish international would provide the same narrow option on the left side as well.
Tying in with this, it was Zieliński's positioning in the middle that opened up the avenue into Fabián in this case. The Spaniard quickly moved it on and so began a quick transition attack from Napoli. Insigne, as he did earlier in the move, peeled off his defensive marker with ease, received freely on the edge of the area and executed a deft clip ball over to meet Zieliński's run. Zieliński laid it off for Mertens. On the half volley once again, the striker's effort was more than just tame it was so poorly placed, too, making Lafont's life a lot easier.


Chances few and far between for Fiorentina but they all stem from one source
There were not too many highlights to the home side's game in attack. Whatever they created, they did so because of their aerial prowess. Particularly in their man-for-man setup, their towering players made the most of these situations, especially when Napoli's goalkeeper, Alex Meret, attempted any clip balls out towards the fullbacks. In being first to the second and third balls Fiorentina could incidentally quickly spring attacks and get into their opponent's box.
Federico Chiesa's effort, which he worked open for himself brilliantly, from a tight angle inside the box was about the only chance worth shouting from this, however. And, unfortunately for the hosts, there were not many signs of hope elsewhere, with them continuing to struggle to create the simplest of openings throughout the entire match.


The second period soon enters stalemate territory
Unlike in the first half, which was more than eventful but equally forgettable for the visitors, this half quickly became much more dull. Insigne, Mertens and Zieliński all continued to drop-in, link to the sides and try to progress from there. The difference being that Fiorentina bedded themselves in a little more and their slightly more conservative approach frustrated Napoli's efforts to break them down in the final third.  The one-third of the pitch that is closest to the opposition's goal.
There was also a little more of the ball flowing Fiorentina's way, albeit entirely ineffective in possession. This made the match feel more even, even though Fiorentina lacked the kind of quality to forge any dangerous openings at either end. Napoli still had the lung-busting energy to close down Fiorentina's ball-carriers, so squeezing the spaces between the lines and quickly dispossessing those trying to receive in there was not too difficult a task for them to achieve.
Arkadiusz Milik had the strongest impact of any subsitution either side made in the second half. Himself and Insigne – who, as you might have guessed, initially received in front of the defense now all too freely – looked to combine directly with the Polish striker. So they did and so nearly did the center-forward's clever flick put Insigne through on goal.
One final chance did fall Napoli's way in stoppage time. Allan picked up the ball after a tackle in some space, dynamically switched it to meet Callejón's far-sided run. Milik's pre-timed run was away from all other defenders but the finish that met the perfectly weighted low cross was a horrible one. Yet another chance went begging and, somehow, Napoli were not ahead and drew this game.


Takeaways
It is a little hard to grasp how Ancelotti and the players will reflect on this game. The result was not ideal but, at the same token, they are not currently in a position to worry about those around them and the performance was most certainly there. Napoli will now have their sights firmly planted on their trip to Switzerland on Thursday for their Europa League round of thirty-two clash with FC Zürich.
Although Fiorentina's league position is more contestable, they are still safe and sound in tenth. That result does though mean Pioli's men have only lost one of their last eleven games in all competitions; a run that includes a 7-1 Coppa Italia quarter-final victory over AS Roma.
Use the arrows to scroll through all available match plots.