Borussia Dortmund – Schalke 04: Dortmund Demolish Schalke With Sharp Attacking Movement (4-0)
There were brief moments of promise from Schalke in the early minutes of the game. After this, Dortmund took control and smart movements in their attack from the likes of Julian Brandt and Thorgan Hazard threatened the wobbly Schalke defense. Dortmund were also clinical in front of goal, aided by some questionable goalkeeping which helped the home team to an emphatic victory. 
Tactical analysis and match report by Josh Manley.
The Bundesliga's first matchday since the suspension of football due to coronavirus featured one of Europe's biggest derby games as Borussia Dortmund hosted Schalke 04. 
Prior to the lockdown, Dortmund had just been knocked out in the Champions League Round of Sixteen by Paris Saint-Germain. On the domestic front, they had seven wins from eight Bundesliga games in the period after the winter break, with their one defeat coming against Bayer Leverkusen. Lucien Favre's side resumed the league campaign in second place, four points behind leaders Bayern Munich. 
Schalke meanwhile find themselves in sixth place, ten points behind fifth placed Leverkusen. They had been level on points with Dortmund in fourth place going into the winter break. However, their form in 2020 has been poor. After beating Borussia Mönchengladbach in their first game in January, Schalke went on a seven game winless run until lockdown, including 5-0 demolitions at the hands of Bayern and RB Leipzig. 
After having problems in their 4-2-3-1 earlier on this season, Dortmund have been using a 3-4-3 system since around the start of December, which has served them relatively well. For this game the 3-4-3 shape was once again selected. 
Julian Brandt, having been deployed in a central midfield role this season, instead started as an attacking midfielder alongside Thorgan Hazard as Jadon Sancho was left on the bench. This, along with the absence of Axel Witsel through injury, meant a rare start in central midfield for Mahmoud Dahoud, who partnered Thomas Delaney. Elsewhere, team selection was as expected, with Erling Braut Håland up front, Achraf Hakimi and Raphaël Guerreiro as wing-backs, and Mats Hummels at the heart of defense.
David Wagner has used a 4-3-1-2 system at Schalke for much of the season. However just before the lockdown, a 3-4-3 formation was seen on a couple of occasions. This system was now chosen for the trip to Dortmund, with a back three of Jean-Clair Todibo, Salif Sané and Matija Nastasić tasked with keeping Dortmund's attack quiet. 
Brief promise from Schalke 
For the first minutes of the game, it seemed as if Schalke may have been the better prepared team coming into the game, as they looked to press Dortmund high up the pitch and did so with reasonable success as Dortmund struggled to progress the ball meaningfully.
In this respect Wagner's side benefited from being able to match Dortmund man-for-man with both teams nominally using 3-4-3 systems. The wide forwards of Schalke could start the pressing by pushing up onto Dortmund's wide center-backs, and Schalke could get their own wing-backs pushing up onto Dortmund's wing-backs to prevent them progressing wide and force them into the center. Schalke's moderate pressing success did not endure for long though, and their possession game was quite unimpressive. 
Schalke in possession.
The player roles in the context of their starting 3-4-3 shape were relatively unorthodox. Jonjoe Kenny pushed very far up on the right side, while Todibo behind him shifted slightly to the right, as did the other two center-backs. Bastian Oczipka on the left then stayed in quite deep positions for the most part. 
Suat Serdar on the other hand often pushed very far forward in the left halfspace, while Amine Harit stayed slightly wider as the left sided attacker. This shape left Weston McKennie relatively isolated in central midfield, and Schalke often struggled to connect through the center of the pitch with their limited midfield presence.
The main bright point for Schalke in attack was Harit, who looked sharp cutting in from the left side at times, especially early on. Overall though Schalke did not impress, and Dortmund would go on to largely dominate the rest of the first half. 
Dortmund's dangerous attack
After the early period, Schalke played mostly from a 5-4-1 medium block.  A medium block refers to a team that retreats in their own half out of possession, generally only disrupting their opponents some way into their own half.With the teams theoretically lining up man-for-man with a 3-4-3 shape against a 5-4-1 arrangement, a potential problem for Dortmund may have been a struggle for their attacking midfielders to receive the ball due to the marking of the wide center-backs of Schalke. 
The movement of Brandt and Hazard helped them avoid this, however. They were rarely static in their nominal positions where they would have been easy to pick up. Instead, they moved horizontally between the lines, into zones where the wide center-backs would be reluctant to follow them and creating overloads When one team has more players in a certain area or zone than the other team. in other zones of the pitch. They also had a decent mixture of vertical movements, as they could be seen threatening depth as well as dropping deeper into midfield to support ball circulation. 
Dortmund in possession.
Dortmund's first goal was a great example of how Brandt and Hazard helped to create breakthroughs. Hazard had drifted into the center behind Schalke's midfield line and was heading for the right halfspace If you divide the field in five vertical lanes, the halfspaces are the lanes that are not on the wing and not in the center. Because there is no touchline like on the wing, players have the freedom to go everywhere. But this zone often is not as well-defended as the very center. This makes it a very valuable offensive zone to play in and a lot of chances are created by passes or dribbles from the halfspace. where Brandt was already stationed. Łukasz Piszczek found the pass into Brandt's feet which drew Nastasić towards him. Brandt then flicked the ball into the path of Hazard who had ran into the vacated space behind Nastasić. The Belgian's early cross was perfect for Håland who calmly finished to make it 1-0. 
It had to be him: Haaland scores the first #Dormund goal against Schalke with a quality finish. Brilliant touch from Brandt and cross from Hazard. Football is back! #Bundesliga #BVBS04 pic.twitter.com/VdVdB3J5og

— Last Row (@lastrowview) May 16, 2020
A less decisive but still important part of that goal was the role of Hakimi maintaining width on the right flank, drawing Oczipka towards him which increased the space Nastasić had to defend. Hakimi's left-sided counterpart, Guerreiro, was less dedicated to maintaining width but nevertheless important to Dortmund's attack. 
Aside from two well-taken goals, Guerreiro as always was keen on diagonal movements from the left wing-back position. He drifted between the lines to join the likes of Brandt and Hazard in combining through the middle, or sometimes Hazard would rotate with him and take up the left flank. Either way, Guerreiro was another key part of Dortmund's attack on the day.
All of this was supplemented by forward bursts from Dahoud in central midfield who could act as the third man following vertical passes into the front three. Overall, Dortmund impressed with their attacking movement although the resistance from Schalke was not always that strong. 
Different system, same Schalke
Guerreiro had put Dortmund 2-0 up just before half-time. Schalke goalkeeper Markus Schubert had, not for the first time, scuffed his clearance from the penalty area. This was pounced on by Dortmund in midfield, and eventually Brandt's perfectly weighted pass into the path of Guerreiro allowed the wing-back to fire a low shot across Schubert into the bottom corner. 
Wagner attempted to rescue the situation with a change of system and two substitutions at half-time. Todibo and Benito Raman were removed as Schalke introduced Rabbi Matondo and Guido Burgstaller to the game.
The two substitutes would make up Schalke's strike partnership as they moved to a 4-3-1-2 system. Harit moved to the number ten role, and behind him Daniel Caligiuri, McKennie and Serdar made up the midfield three.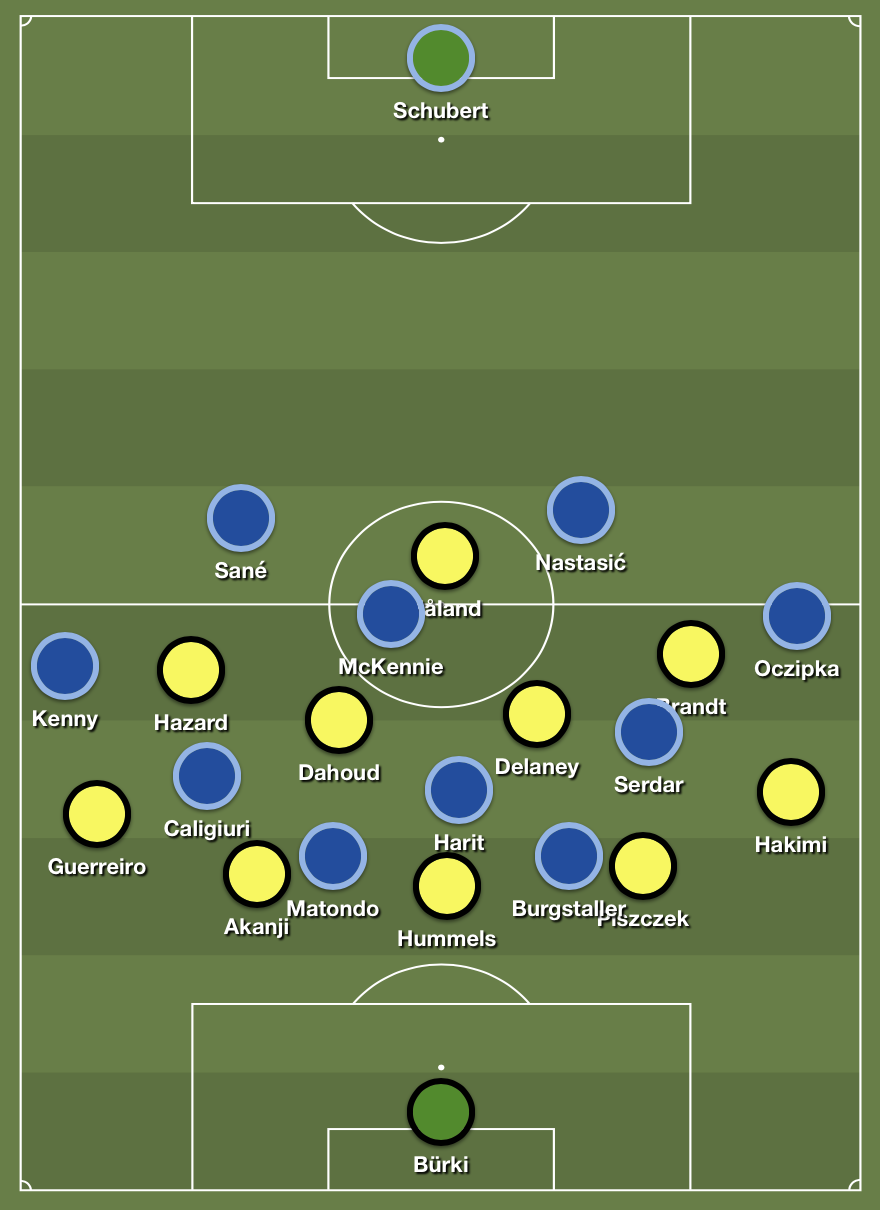 Schalke's in possession in their 4-3-1-2 in the second half.
The change of system did little to solve Schalke's problems, however. They were still quite disconnected in midfield with a relatively flat front line, as Serdar and Caligiuri continued to play advanced roles leaving McKennie alone in the center. 
The extra player up front and relatively weak counterpressing After losing possession, a team immediately moves towards the ball as a unit to regain possession, or at least slow down the pace of the counterattack. structures also meant that Dortmund could exploit the counterattack. This happened within just a few minutes of the second half, as Dortmund broke and Brandt set up Hazard's first-time strike from the edge of the box, which found its way in with the help of some peculiar goalkeeping from Schubert. 
Dortmund found it relatively easy to sit back in a 5-4-1 shape and soak up pressure, and always looked more dangerous going forward than their opponents. They added their fourth goal after the hour mark thanks to an incisive diagonal run off-the-ball by Guerreiro followed by an extravagant finish with the outside of his left foot. 
What a match from Dortmund in today's derby. This was the fourth goal, a lovely counterattack: Brandt saw the space for Guerreiro's run, who combined with Haaland for the goal. #Bundesliga #BVBS04 pic.twitter.com/wKI76K9ia6

— Last Row (@lastrowview) May 16, 2020
This goal seemed to rob Schalke of whatever spirit they had left at that point. Schalke had the majority of the ball in the second half prior to Dortmund's fourth goal. After that point though, the home side had nearly seventy per cent possession, and found it easy to circulate the ball along the backline at a relatively pedestrian pace against a mentally and physically defeated Schalke.
The extra substitutions available due to current circumstances were made use of by both managers. Wagner brought on Alessandro Schöpf, Timo Becker and Barcelona loanee Juan Miranda. Meanwhile for Dortmund there were cameos of varying lengths for Leonardo Balerdi, Sancho, Marcel Schmelzer and Mario Götze as Dortmund easily closed out their 4-0 win. 
Takeaways
Considering the suboptimal preparation and circumstances around the game, Dortmund gave a surprisingly fluid showing in attack. The movements of the front three, especially Brandt and Hazard, were crucial in Schalke's undoing. Dortmund also took their chances in clinical fashion, albeit with some poor goalkeeping for the third goal in particular. 
Outside of some pressing in the opening minutes and a decent performance from Harit, Schalke were disappointing. Their defensive line was unable to cope with Dortmund's movement, and when they had the ball they found themselves unable to connect through midfield with their possession structure. 
Use the arrows to scroll through all available match plots. Click to enlarge.
Check the match plots page for plots of other matches.
This week's Between The Posts Podcast also features this match.
Head over to the podcast page to check it out.